Pryce: We had nothing to lose
Karl Pryce hailed a "special group" of players at Bradford after the financially-crippled club caused an almighty upset by beating Wigan.
Last Updated: 30/06/12 2:57pm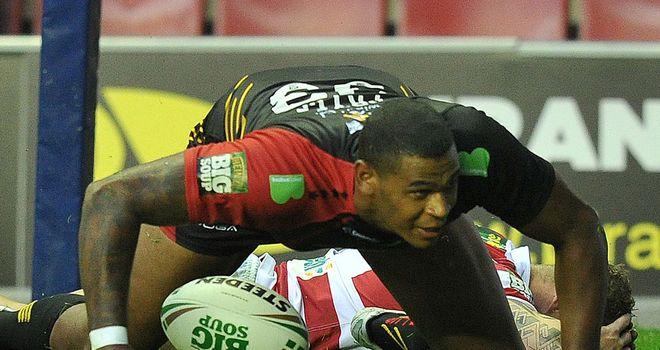 Karl Pryce hailed a "special group" of players at Bradford after the financially-crippled club caused an almighty upset by beating Wigan.
The Bulls went into administration on Tuesday and unless new investment is found, and quickly, they could go into liquidation next week.
With the possibility that their trip to face the Warriors could end up being their last Super League game, Bradford demonstrated they have the stomach for the fight when they pulled off a stunning 30-22 victory at the DW Stadium.
Pryce came up with two tries against his former employers and admits that the visitors felt like they had "nothing to lose" after a tough week.
Desire
"It's a special group, we'll do anything for each other," said the Bradford-born winger.
"We've not been too far away all season. We've struggled to put an 80 minutes together, we've done an odd 40 minutes or 50 and fallen off.
"We had nothing to lose and went out there and enjoyed it. We played with a smile on our face and it just shows we're not a half-bad side.
"We showed desire, plain and simple, and a commitment to the cause and the fans who turn out week in, week out. They were fantastic. They've been with us since the crisis began."
Bradford have lost just four out of 11 matches since news of their financial crisis broke in March but the situation has reached a critical point.
With no money left to pay wages in July, administrator Brendan Guilfoyle is expected to start making redundancies on Monday and says he cannot guarantee next Sunday's home game against London Broncos will go ahead.
"We can't do anything off the field about it," Pryce admitted. "It's going to happen no matter what we say or do.
"All we can do is come into training every day and continue to train as hard as we can and obviously when it comes to 80 minutes on the field.
"That's what we do best and that's the only thing we can really worry about. That's something we'll continue to do unless told otherwise.
"We've got to turn up next week and put in a performance against London. It's no good turning Wigan over on their own patch and then putting in a poor performance back home. It's business as usual."
Talks
The Bradford players met Rugby Football League officials on Thursday in an effort to gain some assurances over their futures but Pryce, who is one of 17 players out of contract at the end of the season, is adamant the uncertainty will not affect displays on the pitch.
"It's difficult," he added. "We're going talk about it but, as soon we get into the changing room, it's a totally different ball game.
"It's at the back of your mind but it's something you've got to get on with. We've a strong character in this team and we'd do anything for each other."