Guilfoyle retains Bulls hope
Administrator Brendan Guilfoyle says he is "hopeful" of receiving an offer for the Bradford Bulls before Tuesday's deadline.
Last Updated: 10/07/12 11:31am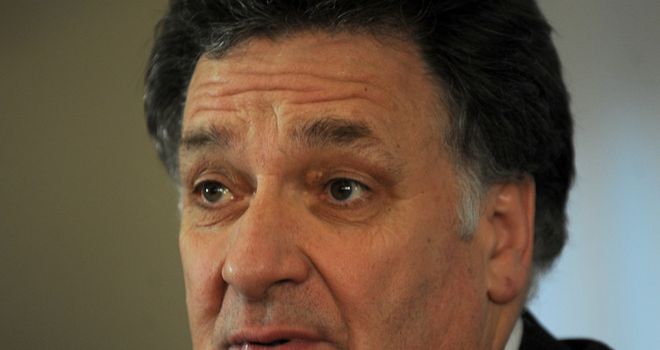 Administrator Brendan Guilfoyle says he is "hopeful" of receiving an offer for the Bradford Bulls before Tuesday's deadline.
Guilfoyle is searching for a buyer for the ailing Stobart Super League outfit and is in "active discussions" with a group of local businessmen who have expressed an interest in taking over the Bulls.
But he warns the loss-making club have reached the "crossroads".
He said: "I'm talking to a consortium of Bradford businessmen. We've just adjourned because we're tired and we're going to have a coffee.
"We'll re-convene tonight when all interested parties will be there."
Although the Rugby Football League on Friday insisted they had fielded two serious expressions of interest from potential buyers and had passed on the details, Guilfoyle believes there is only one serious candidate, unless someone comes in with a late offer.
Guilfoyle met the consortium during Sunday's game against London Broncos which was also attended by the leader of Bradford Council, Councillor David Green.
Very interested
"I believe I've got someone who is very interested in buying the club," he added.
"What they're concerned about is the level of losses going forward and they're giving it due diligence.
"Whether they make an offer or not, I don't know but I'm fully engaged in active discussions and I'm hopeful.
"I'm not pinning all my hopes on this but I don't see too many other options out there."
Guilfoyle, who was appointed as joint administrator a fortnight ago, says he is still working towards Tuesday's deadline and that liquidation remains a serious possibility.
"I've got to discuss it with my colleagues," he said. "We're at the crossroads. We're in a serious place because it's a loss-making organisation, that's the legacy I've inherited."
A week ago Guilfoyle made 16 full-time staff redundant in a desperate attempt to slash costs and Sunday's game only went ahead after most of them volunteered their services.
They included head coach Mick Potter and his assistants Francis Cummins and Lee St Hilaire and the team responded with an impressive 44-12 victory over the Broncos in front of a 10,132 crowd.
That was lower than expected but Guilfoyle says he expects to make more than double the £20,000 he estimated it cost to stage the match.
"We're still counting the cash," he said. "We couldn't use credit cards so it's very labour intensive.
"The fans turned up in their numbers despite the rain and the counter-attractions and a crowd of 10,000 demonstrated to the consortium there is a solid fan base."
The club do not have another fixture until July 20 - the have only three home games left this season - but the players' wages are due at the end of this week.