Bulls to get more time
Bradford's administrator Brendan Guilfoyle has agreed to extend Tuesday's deadline to save the club until July 27.
Last Updated: 10/07/12 9:26pm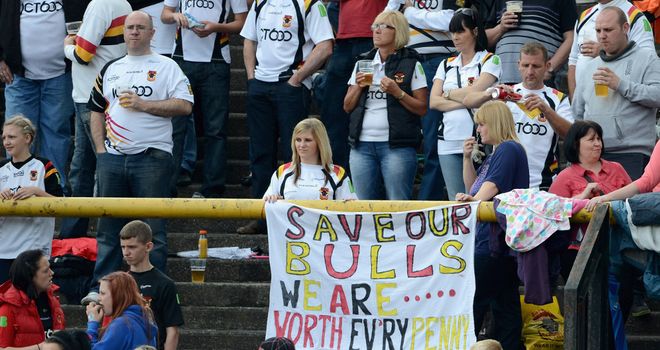 Bradford's administrator Brendan Guilfoyle has agreed to extend Tuesday's deadline to save the club - but only if the Rugby Football League advances funds to cover the players' wages for this month.
Guilfoyle, partner of Leeds-based P&A Partnership, had threatened to put the beleaguered Super League club into liquidation at midnight unless a buyer came forward.
With a consortium of local businessmen showing an interest, Guilfoyle has announced an extension of the club's administration by another 12 working days, until Friday, July 27, subject to the RFL providing funds to cover the wage bill which is due this week.
Bradford were due the next monthly instalment of central funding from the RFL's Sky television deal next week but the players are due their wages, thought to amount to more than £200,000, on Friday.
Guilfoyle becomes legally liable for the wages after a fortnight in administration and revealed last week that he had around £20,000 in the bank.
A representative of the consortium, accompanied by a lawyer and Guilfoyle, held talks with RFL chief operating officer Ralph Rimmer and director of licensing Blake Solly at the League's Red Hall headquarters on the outskirts of Leeds on Tuesday afternoon to seek their assistance.
Guilfoyle said: "We have approached the RFL to ask if they would advance payments to the club to enable us to pay July's wages for retained staff and players on Friday.
Grateful
"They have agreed in principle subject to due diligence. We are very grateful for all their support - they have seconded a finance team to help us respond to all the requests for information."
Guilfoyle, who made savings of around £45,000 at the start of last week by making 16 full-time members of staff redundant, said he was hopeful of a positive outcome to three days of talks with the group of Asian businessmen.
"This consortium has not yet made a formal offer," he said. "They want to see the full extent of losses expected over the next 18 months and ensure they have sufficient funds in place before making a formal offer.
"I can see light at the end of the tunnel but that light can be turned out. The closer it gets, the harder it gets."
The latest development means Bradford's next match, a derby against Leeds at Headingley on Friday, July 20, should go ahead. Their next scheduled home game is against Widnes on August 5.