Further twist for Bulls
The RFL's board of directors are considering a second offer for Bradford after raising issues over the bid from the ABC consortium.
Last Updated: 26/07/12 5:38pm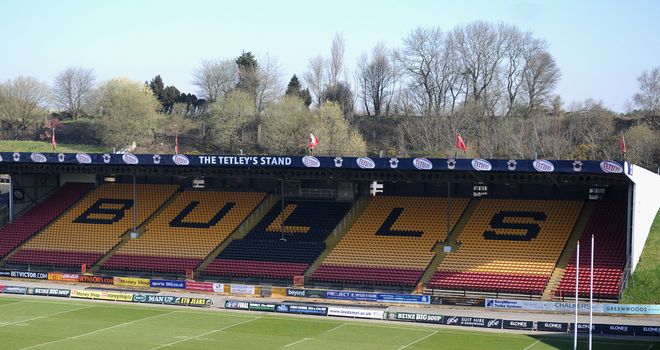 The Rugby Football League's board of directors have described the conditions attached to ABC consortium's bid for the Bradford Bulls as 'unrealistic'.
The offer was made to Bradford's joint administrator Brendan Guilfoyle by a group of local Asian businessmen, but there were strings attached.
The consortium wanted an assurance from the RFL that the Bulls would be allowed to remain in Super League in 2013 and also sought the right to buy back the lease to Odsal Stadium from the governing body.
The latest twist to the long-running saga comes just 24 hours before the latest deadline set by Guilfoyle to find a buyer and avoid putting the club into liquidation.
Unacceptable
However, the RFL have revealed they have received details of a second offer, which is thought to be from a group involving the local Bradford MP Gerry Sutcliffe, a former Sports Minister.
In a statement, the RFL said: "The RFL has today informed the business consortium which has tabled an offer to the administrator of Bradford Bulls that the conditions attached to their proposal to acquire the club are unacceptable.
"The offer was submitted in writing on Tuesday but, after careful consideration, the RFL Board of Directors has deemed its conditional nature to be unreasonable and unrealistic.
"Details of a further offer for Bradford Bulls are currently being assessed by the RFL, which will continue to work with the administrator to help find new owners for the club."
The latest offer is thought to contain similar conditions but Sutcliffe, who is fronting the bid from local restaurant owner Omar Khan, insisted the plan would be to develop Odsal with support from Bradford Council.
The Bradford South MP told the Bradford Telegraph & Argus: "The club is so important to the city.
"It's more important than just a rugby league club - it's part of our heritage in Bradford. We want to make sure it's saved.
"The bid aims to achieve three things - to create a sustainable future for the club, development of the stadium and to develop the site in the way we have all thought about in the past.
"The third point is a long-term plan to work with the fans about how we can develop the site to attract as many people as possible.
"That would happen over a period of time and is something that would involve working with partners."