Sutcliffe fires Bulls warning
Former Sports Minister Gerry Sutcliffe has warned that it will take two years to turn around the fortunes of Bradford Bulls.
Last Updated: 02/09/12 2:05pm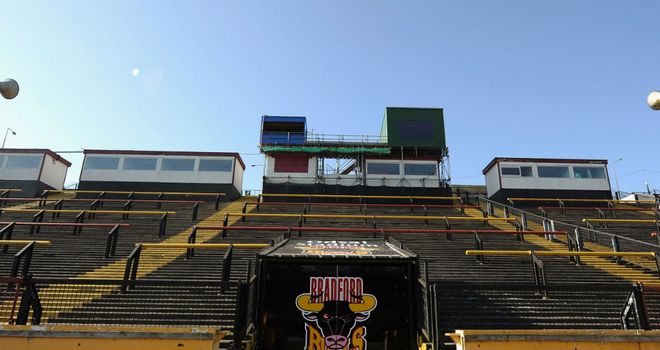 Former Sports Minister Gerry Sutcliffe has warned that it will take two years to turn around the fortunes of Bradford Bulls.
Sutcliffe, MP for Bradford South, and local restaurant owner Omar Khan saved the ailing Super League club from the threat of extinction after agreeing a deal with administrator Brendan Guilfoyle on Friday night.
Sutcliffe says the pair were forced to act quickly after Guilfoyle, faced with having to foot the next wage bill from September 1, threatened to liquidate the club and cancel last night's home game against Hull unless he pushed through the sale.
"It was important to save the club," said Sutcliffe, speaking after the Bulls' record 70-6 defeat by Hull.
"As late as last night, the administrator threatened to liquidate the club there and then and the game wouldn't have taken place.
"It's been a ferocious few weeks in terms of negotiations and discussions that we've had to get to where we are."
Sutcliffe, who will be honorary chairman of the new club, and Khan, who will be the sole director, received a rapturous welcome from the 10,616 crowd after being introduced before kick-off.
Khan said: "It's the best thing that I've ever done. After seeing the passion of these fans, it's a great feeling."
Cost
The 54-year-old Khan is thought to have paid around £150,000 to take the club out of administration but it will obviously cost a great deal more to take the club forward.
He brushed off the Bulls' heaviest ever Super League defeat to insist that he will be with the club for the long haul.
"We'll see this through," said Khan, who became a Bradford fan during their halcyon days when they reached the Grand Final five years in a row up to 2005.
"On Monday, myself and Gerry are going to sit down and work through the best strategy to go forward.
"I'm bringing people in who have been very passionate about the club and have been working very hard in the past.
"Our vision is for Odsal to become a sports village and I guarantee it's going to take a little while but we will achieve it."
The takeover has still to be ratified by the Rugby Football League, who have to transfer membership to the new company OK Bulls Limited, but that is expected to be a formality early this week.
Licence
Less straightforward is whether Bradford will be allowed to keep their Super League licence, which has two years to run but which was effectively forfeited when the club went into administration in June.
The RFL allowed the Bulls to continue with their fixtures - their final game of the regular season is away to Catalan Dragons next Saturday - and they received a boost when the rest of the Super League clubs recently agreed to stick with 14 teams for 2013.
But Bradford are now likely to enter a mini-round of licensing involving leading Championship clubs Featherstone, Halifax and Leigh, and Sutcliffe admits that, although they have an alternative plan to play in the Championship, remaining in Super League is crucial to their long-term ambitions.
"There's a long way to go yet," he said. "Keeping our Super League status is obviously key to how we can take things forward.
"We're grateful for the support we've had from the other clubs in terms of keeping to the 14 and I think, if people treat us fairly, we should have Super League status.
"We've got a three-themed vision about what we want to do. We have to make sure we have a long-term sustainability of the club in terms of finances, we want to improve the stadium for the fans' benefit in the short term and then look at the long-term future of this wonderful stadium.
"For us, it's not only about saving the rugby league club which is part of our heritage, it's about the re-generation of Bradford.
"We believe that, if we are able to put our business plan in place with Super League membership, it will take two years to turn it around and that's with goodwill and the support of all the partners we need to have on board."