Bulls retain Super League place
The RFL have confirmed the Bradford Bulls have been given a one-year probationary licence to remain in Super League for 2013.
Last Updated: 14/09/12 4:02pm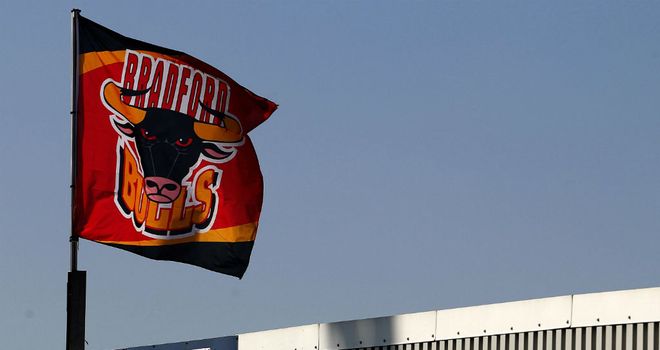 The RFL have confirmed the Bradford Bulls have been given a one-year probationary licence to remain in Super League for 2013.
The decision ends the uncertainty that has surrounded the structure of both Super League and the Championship competitions in recent months.
The Bulls were reinstated as full members of the RFL earlier this week after the club's new owner provided all the financial information required for the governing body to complete its due diligence process.
RFL chief executive Nigel Wood believes the decision will benefit rugby league while the probationary licence means the RFL can monitor Bradford's performance next season.
"This is a very positive development which provides stability for all the clubs in Super League and the Championship and allows the sport to approach next season with even greater confidence," commented Wood on the RFL's official website.
Deliberations
"The Board deliberated long and hard and took into consideration the many views of the sport's various constituents before reaching a decision which we believe is in the best interests of the whole game.
"The new owners of Bradford Bulls are to be congratulated on their foresight in purchasing a club which we always knew was a very attractive proposition. Their investment in Bradford Bulls is a vote of confidence in Super League.
"A probationary licence allows us to closely monitor the performance of Bradford Bulls next season and develop a view on what direction we take in future years. That direction will be framed by the ongoing strategic policy review that we expect to present to clubs in the first half of 2013.
"The probationary licence also precludes the need for a mini-licensing round, which the overwhelming majority of clubs accept was impractical given the timeframes involved.
"The RFL Board and Executive will continue to work with all member clubs to build on the terrific progress we have experienced in 2012."
Pleased
Bradford's honorary chairman Gerry Sutcliffe welcomed the announcement and said the club planned to announce a successor to coach Mick Potter on Monday.
"We're still trying to clarify a few details but we're very pleased," commented Sutcliffe.
"It's good news for the fans and for Bradford and now it's all systems go. We
can start to implement our business plan and sell season tickets.
"We've had lots of offers of help and now we'll need the support not only of
the fans but of the wider business community."