Bradford Bulls: Francis Cummins takes charge after a turbulent 2012 campaign
After nearly going to the wall last year, the Bulls will hope to come charging out of the blocks this season.
Last Updated: 01/02/13 2:22pm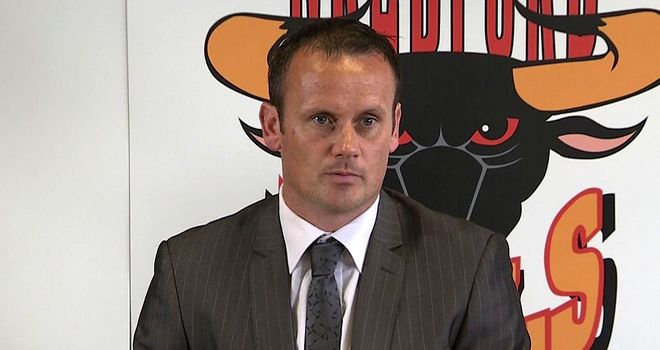 Last season
Eventful. That's the best word to sum up 2012 for the Bulls. Had things been a little different, it could have been their last.
The final table shows they finished outside the play-off positions for a fourth straight season - what it doesn't show is that they were deducted six points for going into administration, sacked their coaching staff due to the financial crisis only to then see some return as a favour to the players. At one stage, they looked in danger of not even fulfilling all their fixtures.
Had it not been for their money problems, Mick Potter's squad would have actually finished sixth, above Huddersfield and Wakefield. That at least shows that progression was made on the field, while the takeover by Omar Khan should hopefully lays some more solid foundations off of it.
Inconsistency bugged the Bulls in the early rounds - they won their first three away games at the start of the campaign, but it took them four attempts to register a victory at Odsal.
They did improve at home, not least registering tight victories over St Helens and derby rivals Leeds, the second of those results coming in front of a bumper crowd of over 20,000 after it became public knowledge just how much financial trouble Bradford were in.
Despite concerns over the club's long-term future the players continued to battle hard. In what was feared to possibly be their final game, they upset the odds to beat table-topping Wigan on the road.
Yet when the deal by Khan and MP Gerry Sutcliffe was finally confirmed, Bradford responded by going down 70-6 to Hull FC in front of their own fans to destroy their slim top-eight hopes. They finished up by conceding a half-century in Perpignan, meaning the Wildcats pipped them at the post.
Ins and outs
In recent years the Bulls have chopped and changed when it came to playing personnel. This winter, their biggest alteration has been the appointment of Francis Cummins to the role of head coach.
The former Leeds Rhino worked as assistant to Potter, who showed his loyalty in returning last year but will now hope for a little more stability in his new job at Wests Tigers, so he knows about the majority of his squad.
There have been plenty of departures; another Burgess has headed Down Under after Tom followed a familiar path for the family to South Sydney, Australian Ben Jeffries and Frenchman Olivier Elima have returned home and Ian Sibbit and Bryn Hargreaves have hung up their boots.
Craig Kopczak refused to have his contract transferred over to Khan's Bulls and instead headed to Huddersfield, while Jason Crookes has found a new home in Hull. Most of the others to have left were only fringe players, so much of the core unit have stayed together.
There have been some additions - Matty Blythe and Ben Evans should relish regular first-team action having arrived from Warrington, plus Jamie Foster will hope to put a topsy-turvy 2012 behind him and get his career back on track.
Crucially, however, the most important signing for the Bulls was not a new face but a familiar one. After being linked with plenty, prized asset John Bateman penned a three-year contract extension to remain at Bradford until the end of the 2015 campaign.
Outlook
Ross Heppenstall (follow him on Twitter @rosshmediaman) has covered rugby league for almost 10 years and has worked as the Bradford Bulls reporter at the Telegraph & Argus for almost 18 months. He also has extensive experience of covering rugby union and football.
Here are his thoughts on the season ahead...
"Whisper it quietly, but Bradford Bulls are ready to embark on a bright new era under rookie coach Francis Cummins.
Traumatic barely covers life at the Provident Stadium during 2012 as a city and a Super League powerhouse were sent into meltdown by a crippling cash crisis.
Local restaurant owner Omar Khan stepped in to save the Bulls just hours before their final home game of the season against Hull last September. His intervention came just as administrator Brendan Guilfoyle threatened to liquidate the club.
Khan's first task was to appoint Francis Cummins as head coach in succession to Mick Potter. Cummins, although only 36, has served a long apprenticeship in the game, first working as Leeds assistant coach under Tony Smith and Brian McClennan for five years before spending the past seasons as Potter's right-hand man.
He has been tasked with rebuilding a squad left decimated by a raft of departures.
Recruitment during the off-season has been minimal but Jamie Foster, Matty Blythe and Adam Sidlow are all capable of playing important roles in the team.
A youthful, talented core of homegrown players, led by Elliott Whitehead and John Bateman, encourages hopes of a bright future at the club.
But the squad is undeniably small. It is to be hoped that key senior men such as Brett Kearney, Heath L'Estrange and Luke Gale can stay fit for the majority of the season. Bateman and Gale will already miss the start of the campaign due to injury but should return by the end of February.
Cummins, whose energy, drive and ambition is to be applauded, wants to restore the club to former glories. His three-year contract means he should be given time to achieve it, but there could be some tough times ahead.
After last year's flirtation with oblivion, the Bulls are slowly rebuilding on and off the field.
The signs in pre-season have been promising and, as ever, the target will be to secure a play-off spot, something the Bulls last achieved in 2008. Rugby league, collectively, should wish Cummins well."