Super League: Hull FC's clash against Bradford Bulls postponed until Sunday
Friday's Super League match between Hull FC and the Bradford at the KC Stadium has been postponed until Sunday.
Last Updated: 10/02/13 5:02pm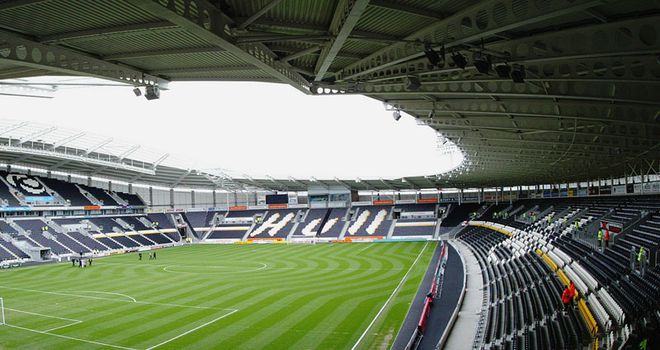 The match will now be played at 3pm on Sunday after some of the Hull FC players were still attempting to arrive at the stadium after the scheduled 8pm kick-off.
The Bradford team coach had earlier been caught up in the congestion, caused by an overturned tanker between junctions 34 and 35, but had arrived at the stadium by 7.30pm.
Following the traffic chaos, which had also slowed Bradford fans heading east along the M62, the game was initially delayed until 9.15pm.
Postponed
But after further problems the Rugby Football League announced the game would be postponed until Sunday.
"The decision was ultimately made with the best interests of the supporters in mind, with neither club nor the RFL willing to make supporters wait any longer without any definitive suggestion as to whether the game would be able to go ahead on Friday evening," read a Hull FC statement.
"Both teams' head coaches were involved in the decision making process and keen to stress that the match should go ahead as a fair contest played at the right time with full squads available, with ultimately the best interests of rugby league at heart.
"Hull FC would like to thank those supporters who attended the fixture and waited patiently. A particular thanks to the supporters from Bradford Bulls who made it to the KC Stadium."
Realistic
Bradford football manager Stuart Duffy admitted that in his 15 years in rugby league he had never gone through anything similar.
Duffy said: "Fifteen years I've been involved with Bradford Bulls, and I've never had to divert off the motorway on the way to a game. Fortunately we were before the A19 (exit and could divert).
"Realistically eight or nine of their players weren't going to get here before 915pm which is the last time the game could have kicked off.
"At the end of the day we can't expect Hull to put a load of kids in because it's an important competition.
"We could have played it tomorrow but it would have been an early kick-off and we would have got back late tonight.
"It's better for everybody concerned that the game is played on Sunday, and we'll travel across on Sunday morning."