Bradford Bulls' Adrian Purtell says he is in fine health as he recovers from heart attack
Adrian Purtell says he is feeling as good as ever as he enters the final stages of his recovery from a heart attack.
Last Updated: 19/02/13 4:19pm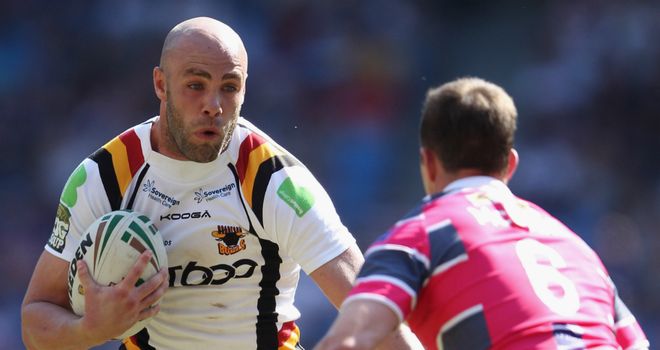 The 28-year-old Australian has not played since he suffered the attack in the aftermath of the Bulls' Magic Weekend defeat by Leeds at Manchester's Etihad Stadium in May last year.
Purtell spent three days in hospital, where he underwent emergency surgery, and went through a series of MRI scans over the following months.
"It was scary when they first told me - and I was there by myself. At that point I didn't know anything about the situation and thought, 'am I going to die?'" Purtell recalled.
At first there were doubts over whether he would be able to play again but in November he was given the green light to resume his career.
Purtell cannot do full contact work until he comes off his blood-thinning medication but has already set his sights on a return to action before the end of March.
He added: "I've got an appointment in London on March 13 and I'm hoping that maybe two weeks after that I should be back playing.
"I feel as good as I've ever felt, fitness and strength wise. Our conditioner has been pushing me really hard and I feel really good about where my body is."
Purtell insists he is capable of going straight back into Super League action, although Bulls coach Francis Cummins may want him to make his comeback with partner club Dewsbury, a move which would need the approval of the UK Border Agency due to visa issues.
"I'm not too sure what's going to happen. If I had to go straight into a Super League game then I think I would," Purtell said.
"At the end of the day Franny picks the team and if he wants me to play at Dewsbury I'll play at Dewsbury. I know physically that I'd be alright to play here at Bradford if that was the case because I've been training hard for four months now.
"Fitness and strength-wise I think I'd be okay but at the end of the day I'll play wherever I'm picked to play and look forward to it."