Latest Super League action reviewed by Sky Sports' Terry O'Connor
Sky Sports expert Terry O'Connor reflects on wins for Wigan, St Helens and Warrington - plus a shoulder charge dispute between Hull and Huddersfield...
Last Updated: 09/07/13 11:24am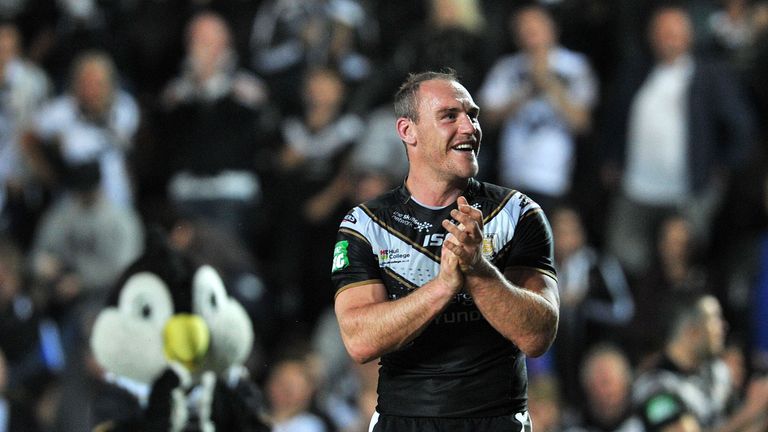 Wigan had lost the last two games going into this and Bradford are really committed performers; in the first half I thought they were absolutely exceptional and everything seemed to be going their way. Francis Cummins, the Bradford coach, was a bit disappointed with some of the decisions that went against them, but they like playing at the line and they looked a confident side.
They put Wigan, who made far too many errors, on the back foot and it was the last 25 minutes when Wigan got a hold of the game. It was a brilliant performance from Wigan to score four tries in the final 16 minutes, which just goes to show you can't switch off when you play the league leaders.
The young full-back Ryan Hampshire made a mistake for Adam Sidlow to go over and score a try, but the young lad bounced back. Sam Tomkins is rumoured to be going down under to New Zealand and in Ryan Hampshire, if the club persists with him in the full-back position without going overseas, then they could have a player.
Hull FC 16-22 Huddersfield
The big talking point was whether there was a shoulder charge before Hull's try. Paul Anderson is a big man and I don't want to disagree with him, but I think Peter Gentle was correct in what he said after the match. I think Gareth Ellis hit Luke Robinson with his chest; he went to wrap him up and wrap his arm around him and I don't think there was any intent. Gareth Ellis is not a dirty player, he's a fully-committed player and unfortunately for Luke that was the end of it for him.
Huddersfield have been playing fantastically well and their defence has been amazing, but Hull FC in the last few games have lost by one point, two points and six points. If they win those games they are up in fourth spot. That's how close the season is this year.
Warrington 19-18 Leeds
In the first half, in particular, there was an awful lot of mistakes. Leeds Rhinos were missing Kevin Sinfield, but actually outscored Warrington by four tries to three - but they missed conversions. Who do you want in your side when it comes down to getting that one-pointer? Lee Briers. He'd failed on an attempt earlier, but won it with the 69th of his career in Super League. It was a fantastic achievement for the Warrington club and for that man in particular.
Hull KR 28-18 Salford
Everyone is talking about Dr Koukash going in to Salford and blowing his cash because he's signing all the big players: Francis Meli, Adrian Morley, Junior Sa'u from down under and the rumours are that he's signed Castleford's main man in Rangi Chase. If they do that they are putting together quite a decent squad.
Between Michael Dobson and Corey Patterson they scored 20 points in this game and you could see the amount of times that Michael Dobson touched the ball and set up one of his players. He plays with so much composure because he knows some of his players are going to come up in support. He can pull off a play that not many players can and this was a great achievement by Hull KR who have now won the last five games. Earlier on in the year Hull KR couldn't close players down - they were losing games despite scoring an awful lot of points. Meanwhile, Salford were really soft in defence which will upset Brian Noble.
Castleford 24-40 St Helens
It was very difficult for St Helens because in the first half, in particular, they were playing on the back foot. Saints have never finished below fifth in Super League, but they lost James Roby on 16 minutes with an ankle injury and brought on Paul Wellens. A good plus for Nathan Brown is the way they reacted. They were 16-12 down at half-time and the form hasn't been good; it was a very good performance from Castleford but St Helens were just too big and too tough in the end.
Catalan 34-28 London Broncos
What you want in your side is a bit of character and Tony Rea, the London coach, will be very happy. This is the second time in a row that they have scored 24 points in the second half. The game was finished by half-time with Catalan leading 28-4 and in fact it was 34-4 after 46 minutes. For London there is an awful lot of positives, but they need to start games quicker. If they start quicker they have got players who can trouble the opposition. Unfortunately for them, they start too slowly; they need to turn up, play with confidence and start better.