Super League: Bradford Bulls yet to receive offers for any of its players
Robbie Hunter-Paul insists the beleaguered Bradford Bulls have yet to receive any approaches for its players.
Last Updated: 13/12/13 7:57pm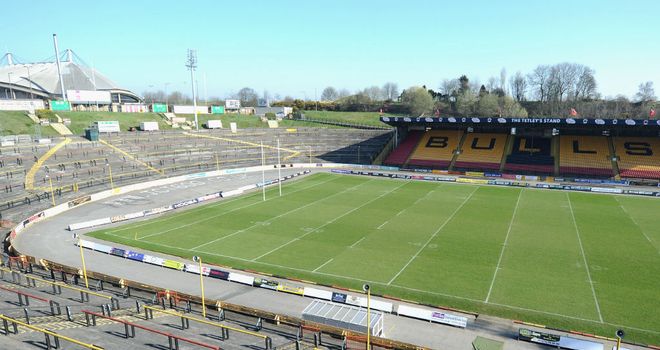 The 2005 Grand Finals winners revealed the club must slash £400,000 from its budgets over the coming 12 months in order to ensure survival.
Bradford are open to offers for players, but, as yet, none have been forthcoming and Hunter-Paul knows most clubs have already spent up to the salary cap.
One club who could target Bulls players is the London Broncos after the capital side staved off the threat of administration following a groundshare agreement with Barnet FC.
"As we have already stated we simply are not in a position to discount potential discussions with other clubs but as of yet we have had no approaches," Hunter-Paul told the club's official website.
"The facts are that the majority of clubs in our division have also spent up to their respective salary cap limits or have no overseas quota spots available.
Necessary steps
"We have found ourselves here for reasons which we have already disclosed and we are taking the necessary steps to put things right. However, we are not standing still. This has been a major untangling process, but we moving forward.
"We are constantly communicating with our media partners, while driving our message through various media channels. Commercially, we are now heading the right direction and, come the New Year, we will be in a position to formally unveil a brand-new portfolio of major partnerships."
A number of cost cutting measures have this week been initiated by Bradford, including staff redundancies, wage reductions - based on hours worked - and overall budget cuts.
Hunter-Paul, who enjoyed great success during his playing days for the club, has admitted the week has been difficult to take.
"This has been the longest week of my life, but ultimately important for the club's future," he continued. "It is a really sensitive time for all as we have had to deal with some uncomfortable realities.
"Last week we explained to supporters, face to face, at a fans forum, that as a business we needed to make some tough decisions which would result in job losses in order to secure the club's long-term future.
Unrealistic financial projections
"It has been well documented that the current board found themselves working with inherited budgets, set on unrealistic financial projections that were simply not reflective of where the club currently stands.
"Surprisingly there was a fair amount of misinterpretation from members of the media this week, suggesting the board had 'told players they would need to take a wage cut'.
"That was completely untrue. The truth was that it was suggested, by members of staff, that before the necessary cuts were made could the board would ask all business units mangers and staff - that were higher earners - to take a 10 per-cent wage cut. That included me, as CEO.
"As a business it was not embraced across the business and so the other measures were implemented.
"The streamlining process, which is designed to cut costs and reduce the unrealistic budgets set by the previous administrators, is now underway.
"The process is ongoing here, but at this stage there has been no player movement whatsoever and Francis Cummins' squad is continuing to prepare for Super League XIX."