Super League: Francis Cummins hoping to retain Bradford Bulls stars
Bradford Bulls' Francis Cummins does not want to lose any of his first-team squad despite their latest financial crisis.
Last Updated: 29/12/13 12:59pm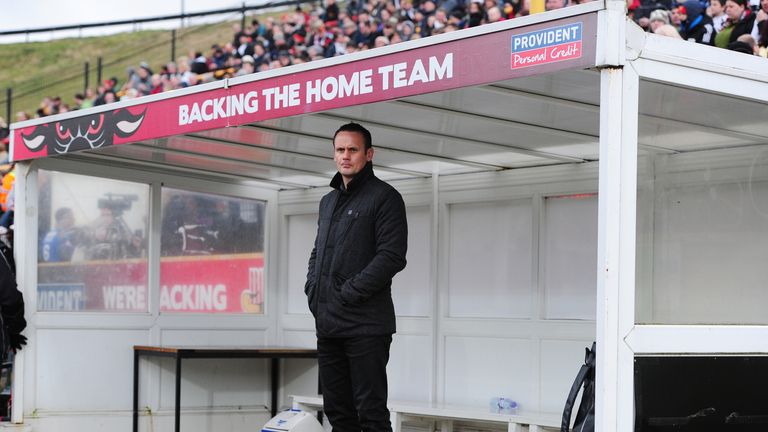 The Odsal club are without a Board of Directors following the resignations of chairman Mark Moore and fellow directors Ian Watt and Andrew Calvert after failing to secure the club's shares from Omar Khan.
The cash-strapped Bulls are being forced to make drastic cuts as they look to shed £400,000 from their outgoings in the next 12 months.
Cummins has brought in the likes of Garreth Carvell, Frank Winterstein, Lee Gaskell and Dale Ferguson and Luke George, although they are expected to off-load stars in order to save money.
The former Leeds Rhinos winger admits it is another 'nightmare scenario' at Bradford, although he believes all of his playing staff are keen to stay.
"It's another nightmare scenario," Cummins told the Daily Mirror.
Uncertainty
"I wouldn't wish this situation on anyone. We don't know what's happening and it's the uncertainty that makes it worse.
"My New Year wish is for stability because we don't know who owns the club or what's going to happen next. But obviously I don't want to lose any players.
"Everything is up in the air but our pre-season training has been the best ever with a great camaraderie among the players and I don't believe any want to go."
The team who finishes bottom of the Super League table in 2014 are expected to be relegated, a move Cummins is not in favour of following a period of licenses for top-flight teams.
"I'm not in favour of bringing back promotion and relegation," he continued.
"Everyone talks about the thrilling Wakefield v Castleford relegation decider a few years ago but there aren't enough quality players around to justify promotion and relegation.
"The promoted club is usually forced to sign reinforcements from the relegated side with clubs making panic buys near the end of the season if they are in danger of the drop."