Super League: Marwan Koukash wife's bid to buy Bradford Bulls is 'genuine'
Marwan Koukash says wife's bid to buy Bulls is serious and insists there would be no conflict of interest if successful.
Last Updated: 13/03/14 5:17pm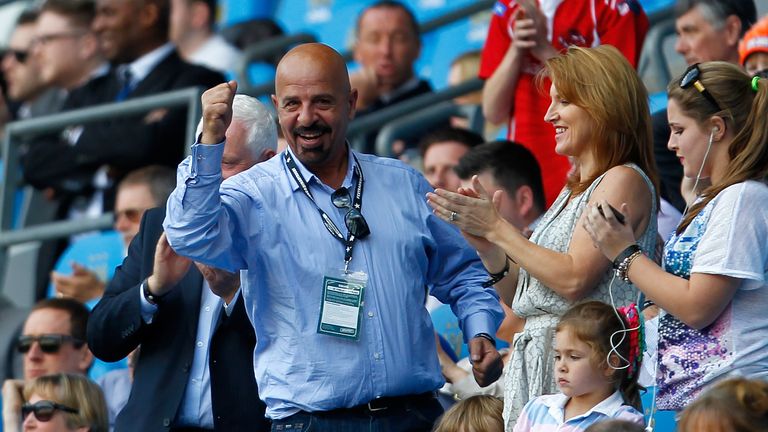 Just over a year since rescuing Salford with a view to transforming their fortunes, Koukash has revealed his wife wants to do the same with the Bulls, who are currently in administration and bottom of the Super League.
All offers for the club have to be with the administrator, Leeds-based David Wilson, by close of business on Thursday and Koukash confirmed that his wife will meet the deadline.
"It's absolutely very genuine," said the former Palestinian refugee. "We are almost there with the proposal. The bid is going to be submitted today (Thursday).
"We're as confident as we could be at this stage. I am being told our bid is very good. There is substance behind it."
Koukash, a millionaire racehorse owner who says he has become "addicted" to rugby league, has taken to Twitter to reassure Salford fans of his continuing commitment to the Red Devils.
Although Mandy Koukash would have to satisfy the Rugby Football League's fit and proper persons test, there is nothing in the rules to prevent a husband and wife owning different Super League clubs.
Precedent
There is something of a precedent, with Gary Hetherington holding the role of chief executive of Leeds while his wife Kathy, a former Hull chairperson and major shareholder, is currently acting as consultant chief executive at Wakefield.
Koukash says his wife would be in charge of the Bulls if her takeover bid is successful.
"There is no conflict of interests whatsoever," he continued. "I see it as promoting the sport even further.
"Mandy wants to run the club herself, although I don't think she will be fully hands on. I am sure she will bring in other people."
Bradford are currently bottom of Super League after having six points deducted for going into administration and, although Koukash suggested there could be a legal battle to reinstate the points, he says funds would be made available to coach Francis Cummins to enable him to strengthen the squad in their fight to avoid relegation.
"There would be funds to make sure the club survives this year," he concluded. "It's going to be a big fight for them, having been deducted the six points. The main objective this year would be to avoid going down.
"She will also need to look at the legal aspects of the legality of having the six points deducted. There could be some interesting times ahead."
Stevo discusses Sam Tomkins' NRL debut and whether the salary cap should be abolished. Shaun Wane talks about Wigan's recent poor and Rob Burrow picks out his three stand-out players from Super League this week