Super League: Marc Green describes daunting challenge he faces at Bradford
Sky Sports News' Richard Graves speaks to Bradford Bulls' new chairman Marc Green about the daunting challenge he faces.
Last Updated: 03/04/14 4:07pm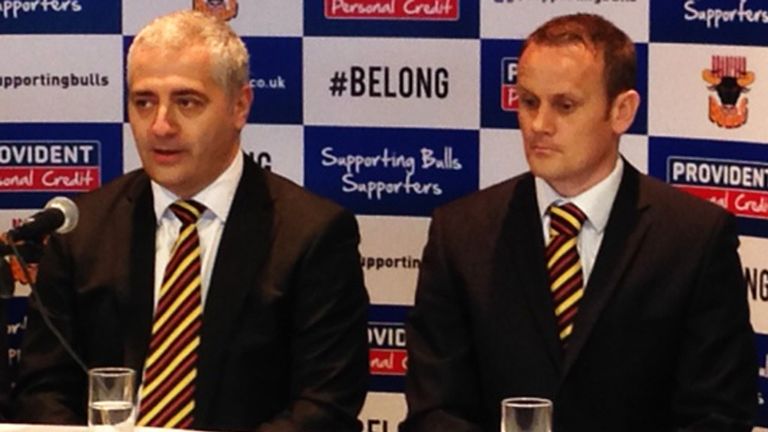 He says he's not a publicist and his job is to ensure the club is run on a sound business footing, but Marc Green is a man who is very clear about the role everyone has to play in keeping Bradford Bulls in the Super League and he's not about to make promises he can't keep.
The new Bulls owner is only too well aware of all the talk of false dawns at the club over the past few years and realises he's taken on a huge job if he's to turn around the fortunes of the once dominant force in rugby league.
"I think that's going to be a very difficult thing to do." he said "My actions are going to speak louder than words. Within a week, not only have I got a new Managing Director, I've got a new Commercial Director and I've signed my first player.
"I'm proud to be the owner of this club - it's a club with an enormous history. Only eight years ago it was World Club champions - it won it three times in the noughties and to see it in the condition it was in when I became involved over the previous six months was actually quite tragic."
The problem Green has, is that the once World Club Champions now sit bottom of the Super League table on minus two points after suffering a six point deduction for going into administration earlier this year, but he's left the door open for an appeal.
"The RFL have clearly defined rules within which appeals can be made. If there is the ability to do so, then we will do so within the rules of the RFL," he said.
Strengthened
On the field Green has already moved to strengthen the playing squad available to Head Coach Francis Cummins by signing experienced French international forward Jamal Fakir.
The 30-year-old joins the Bulls after being released by the Catalans Dragons last month, signing on a contract until the end of the season and is looking forward to the new challenge.
"It's not easy, I know it's very hard but we have players with the talent to stay in Super League," said Fakir.
His arrival gives Cummins some much needed experience and leadership in a squad which has been stripped bare and relied on a string of young players signing on loan this season.
Unsurprisingly, Fakir will be thrown straight into action when Bradford play Oldham this weekend in the Challenge Cup.
"He's going to feature on Sunday, we've got a couple of players who are cup tied so our numbers are even lower. I don't expect him to do 80 minutes but he'll have a good spell," said Cummins
With a sense of stability off the field at Bradford, Cummins is hoping to strengthen his squad further, although he admits there aren't too many quality players available at this stage of the season.
"Your looking all the time, you're looking at younger players, you're looking at the NRL, you're asking questions but there's no direct contact," he said.
"When it's time to take the next step and commit then generally the word comes to you than you finding it.
"I'm not into unsettling players, I'm not into that game. There'll be no me ringing players up if they're not available, that's just not the way to do it."
After months of uncertainty it now appears Bradford Bulls financial future is secure, the question is, has it come too late for the Bulls to secure their Super League status?