Brett Kearney welcomes Bradford Bulls' appeal against points deduction
Bradford's decision to fight their points deduction has given the players a lift, according to Brett Kearney.
Last Updated: 15/04/14 3:55pm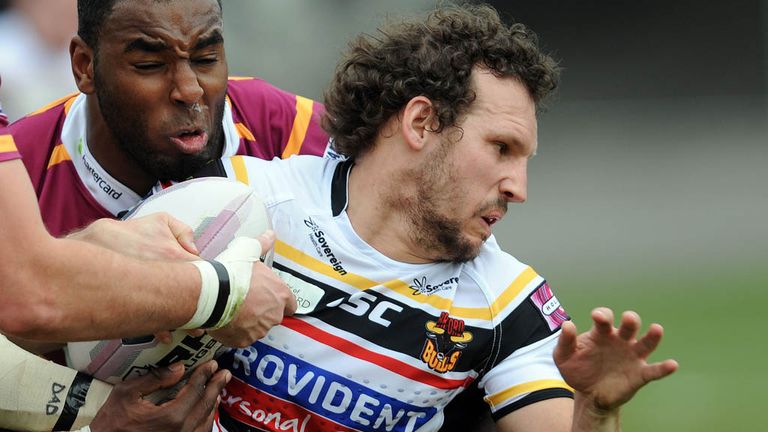 The Bulls are bottom of Super League on minus two points having been docked six for briefly entering administration earlier this year.
And with relegation reintroduced this season Bradford have become the first Super League team to appeal a points deduction, arguing their administration occurred in circumstances that were unforeseeable and unavoidable.
A hearing will be convened "as soon as possible", according to the Rugby Football League, and in the meantime the news has been welcomed by a squad on a run of five straight league defeats.
Kearney said: "That's something that's not in our control but, as a player, at least you can feel the club are fighting for you. Six points in our situation is massive.
"It doesn't change what we've got to do. We've not been good enough to get any points in our last five games so we still have to pick ourselves up but, if we could get that, it would be a massive boost.
Boost
"If we can't, we can't drop our heads. We've got to concentrate on the next period as if the points are gone. We're still on minus two and if they do come it would be a massive boost for us and the club."
Bradford coach Francis Cummins said: "It would be great to get any points back. It's obviously not in our hands and I hope everything happens and falls in our favour for once.
"It would be nice to put some pressure on other clubs then. I'm not overly concerned about the bottom but you just want to be in the mix of the clubs around us.
"We are having to win a couple of extra games before we get back to there, so
that would help. Hopefully something good will come of it and it will give us a little bit of a boost."