Super League: John Bateman thrilled with decision to join Wigan Warriors
Wigan Warriors' rising star John Bateman says leaving Bradford Bulls for the DW Stadium was a 'no-brainer'.
Last Updated: 22/04/14 4:21pm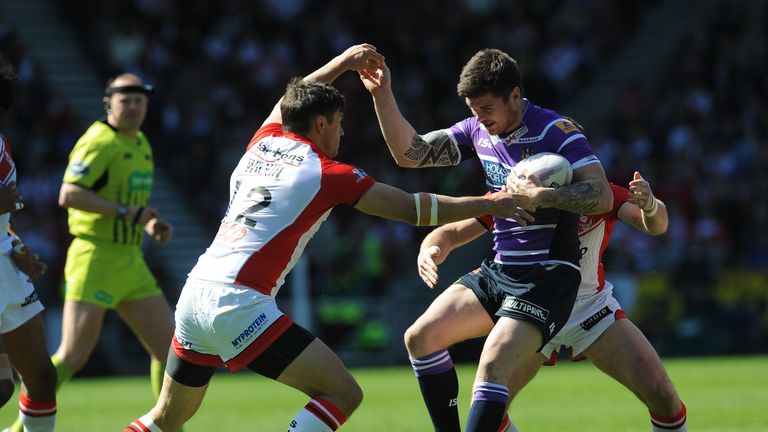 The 20-year-old joined the Super League champions in a £70,000 deal last year, swapping the turmoil of a club in crisis to one that challenges for silverware.
Bateman, who starred for Bradford in Wigan's Good Friday success over arch-rivals St Helens, is relieved to now be at a club where players do not have to worry about when the next paycheque will arrive.
The youngster crossed the whitewash in Monday's 84-6 thrashing of old club Bradford and Bateman is thriving on the intensity at Wigan and learning from playing alongside world-class talent like Sean O'Loughlin.
Secure environment
"The financial problems (at Bradford) were supposed to be getting sorted but they arose again and I just wanted to go then," he told the Telegraph and Argus.
"I wanted to be in a secure environment where I knew I would be getting paid. At the end of the day, when a team like Wigan come knocking on your door, it's a no-brainer isn't it?
"I bit their hands off because it's something you can't really say no to. It wasn't just about getting messed about over getting paid, it was about my career and wanting to win things and play for England.
"I wanted to be in an environment like Wigan where they are constantly pushing you and making sure that it's going to bring the best out of you.
"It's the intensity of everything here - the training, the work ethic and the expectancy on you as a player. Even in training you're expected to be at your best and if you're not then you won't be playing, it's as simple as that.
"They have internationals who you can learn from and as a club we are pushing to win silverware. Sean O'Loughlin is the best player by far that I've ever played with and him helping me out has done me the world of good."