Super League: Jordan Baldwinson and Mason Tonks return to Bradford Bulls from NRL
Teenagers Jordan Baldwinson and Mason Tonks will spend the rest of the season with Bradford after stints in the NRL.
Last Updated: 15/05/14 2:08pm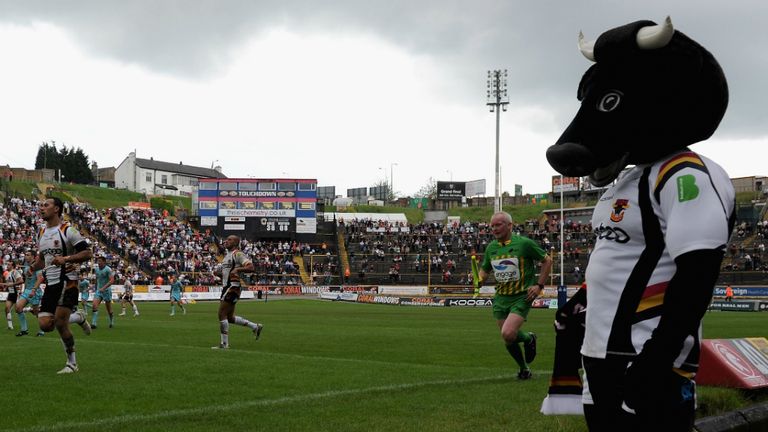 The 19-year-olds joined the New Zealand Warriors from Leeds in July last year and featured in the NRL U20s National Youth Competition.
Baldwinson made five appearances and Tonks two, but they are now looking forward to playing in the Super League on their return to the UK.
They have both been snapped up by Leeds but will join the Bulls for the remainder of the current season.
"This is a fantastic opportunity for both Jordan and Mason and it is also a fantastic opportunity for us as a club," said Bradford head coach Francis Cummins.
"Jordan has captained his country at youth level and Mason is hugely talented. I saw a fair bit of them while they were at Leeds and was very impressed by them.
"They now have a great chance to make a name for themselves in Super League, by putting down a marker for us in the vital weeks and months ahead.
"There had been talk of them joining the club earlier in the week but, despite reports this morning, contracts have only just been signed and agreed."
Following the completion of the campaign, they will head back to Headingley after agreeing deals with Leeds for 2015.
Leeds head coach Brian McDermott said: "It is always good to be bringing back two of our own players, who have come through our academy structure and whom we have invested a lot of time in early in their careers.
"I am sure they will have learnt a lot from their experience with a NRL club and will be looking to stake their claims for next season when they get back."
Baldwinson told the Warriors' official website: "I've had a great time here at the club and it's been brilliant coming out to live in New Zealand but I'm really excited going home to play in the Super League."
Tonks added: "I've loved my time with the lads and have really enjoyed the experience of living here but I'm also looking forward to the chance to further my career."