Huddersfield reject offer from NRL club Sydney Roosters for Luke O'Donnell
Huddersfield have rejected a proposed swap deal for their Australian forward Luke O'Donnell from Sydney Roosters.
Last Updated: 06/02/13 1:27pm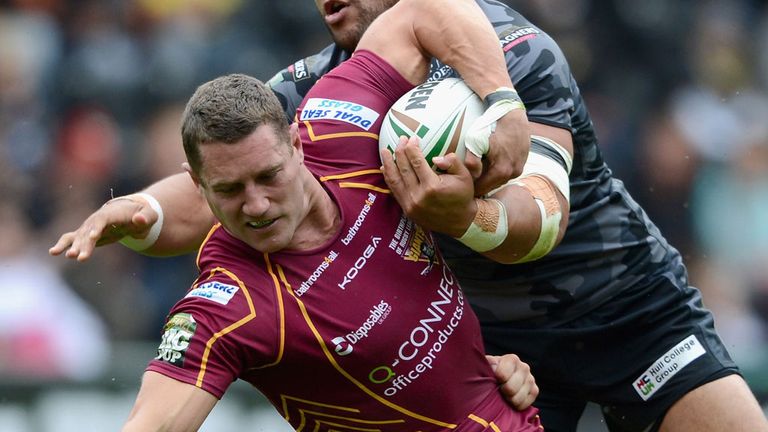 The 32-year-old still has a year left on his contract with the Giants but Roosters recruitment manager Peter O'Sullivan has confirmed his interest in signing the back-rower.
The Roosters have already reached their salary cap following the capture of Michael Jennings and Sonny Bill Williams and needed to offload players in order to bring in O'Donnell.
Fringe second-rower Tom Symonds was thought to be one of the players offered to Huddersfield in exchange but Giants managing director Richard Thewlis says his club were not interested in the deal.
Frenzy
"Given media reports in Sydney, I feel duty bound to comment on a matter that I feel would have been best kept confidential but now seems to be growing into a media frenzy," Thewlis said.
"Our head coach Paul Anderson was contacted by the Roosters suggesting a swap deal involving Luke O'Donnell but none of the options presented to us were deemed satisfactory.
"We of course informed Luke personally as these things seem to have ways of leaking out and he is very comfortable with our actions in respect of what occurred.
"He remains a Giant and will face London Broncos on Sunday at the John Smith's Stadium which is where all of our energies are focused and not in expanding upon potentially destabilising player movement rumours.
"It is particularly disappointing that the reporting has taken the focus away from what was a magnificent opening for our club by winning at St Helens for the first time in 35 years and in a manner that was so eye-catching."