Paul Anderson a proud man after Huddersfield beat Wigan 22-10
Huddersfield coach Paul Anderson proud of his team's display in beating a Wigan side without star player Sam Tomkins.
Last Updated: 16/02/13 9:18pm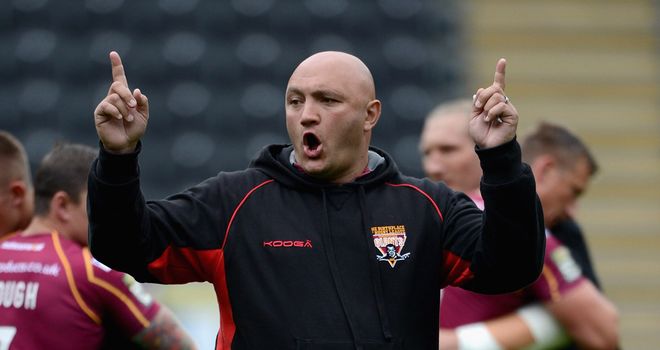 Anderson's side continued their 100 per cent start to the season with a fine defensive display, battling back from 10-0 down keeping the Warriors off the score-sheet for the final 70 minutes of a tense game.
"Sam's a great player but I don't want his absence to take away from the spectacle, whether we win, lose or draw," Anderson said.
"It was a great game and Sam being there would have only added to it. He wasn't so you've got to give credit to the 34 blokes who were out there.
"It was played tough by two very good teams. It was the sort of game we needed to make sure we actually believe in the things we are putting in place. It was a real arm wrestle. It wasn't pretty but who cares if you win it?
"The amount of pressure that was applied to us and our calmness under it was a credit to their belief in each other and also the conditioning. We had one play-the-ball in the last 11 sets."
"Wigan are a great team and this gives us a helluva lot of belief going forward. There is massive room for improvement in this group. I am not going to get carried away by three wins. My thoughts are now on Wakefield next week and the improvements we can make."
Tomkins failed to recover from a shoulder injury he suffered against Warrington last weekend and is unlikely to be back next week, but Wigan coach Shaun Wane refused to use his absence as an excuse for their first defeat of the season.
He said: "Any team would miss someone like Sam but there are no excuses. We came here expecting to win and I thought we had the game plan to win.
"We played well in parts but you have to commend Huddersfield. They played well. Paul has done a great job and I'm really pleased for him, being an Englishman as well.
"I thought their defence was outstanding because we did throw a lot at them. For them to hold us out for so long was outstanding. Overall, the best team won. Their defence on the line was better than ours. They're the form team of the comp. They had a great game plan but I see it as a missed opportunity."