Huddersfield coach Paul Anderson welcomed a tough 24-10 win over Hull
Huddersfield coach Paul Anderson said it is too early to be excited about being top of the Super League table.
Last Updated: 16/03/13 11:17pm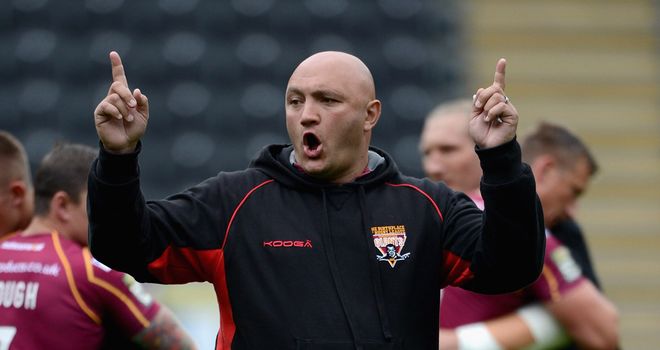 Anderson watched his Giants side come from behind to beat Hull 24-10 and move three points clear at the top of the pile.
"We're just looking at trying to grind some wins out. You don't win anything at this time of the year," said the Giants coach.
"We're finding ways to win games at the moment. There is a lot of improvement in us.
"We weren't the most cohesive. It was a real tough game. Both teams came prepared to trade sets in the arm wrestle.
"I thought Hull had the better field position and more attacking kicks but I can't fault our collective resolve to find something special to beat a good team.
Hull coach Peter Gentle admitted his side had not had the best preparation, with injury and illness disrupting training this week.
"Six players had fitness tests yesterday, five passed and one didn't," he said.
"I was very pleased with our effort, although our execution left something to be desired at times.
"We didn't give ourselves a chance in the first half - we were a bit shellshocked - but we looked dangerous when we got into the game and, with a bit of luck, we could have got closer or even got a win.
"There are no panic stations yet. Huddersfield are a very good team, they're leading this competition for a reason and we weren't far off.
"We had a few young blokes out there and they will be better for the experience. There were plenty of pluses to come out of it."