Super League: Huddersfield's Danny Brough pleasantly surprised by Giants progress
Huddersfield Giants captain Danny Brough admits that his side have already exceeded his expectations this season.
Last Updated: 26/09/13 7:33pm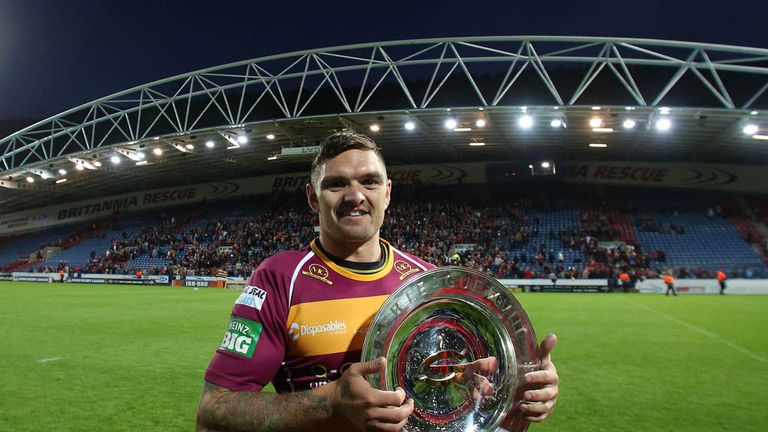 Having topped the table for the first time in 81 years, Huddersfield head into Thursday's clash with Warrington knowing a win would see them reach the Super League Grand Final for the first time.
With an early Challenge Cup exit put behind them, Brough is pleased with the way the Giants have responded to make the last four in the play-offs.
"It's exceeded what I thought we could achieve," he said. "We went out early in the Challenge Cup, which was disappointing, but to finish top of the league was a great achievement and I just hope we can kick on and challenge for the Grand Final."
The newly crowned Rugby League Writers' Association player of the year is now hoping that the Giants can make the Wolves regret opting to play the League Shield winners in Club Call.
"They beat us three times, that's why they've picked us," Brough said. "They think they can make it four times.
"It's up to us to knuckle down and really give a good account of ourselves, put in a good performance and hopefully come out on top."
Controversial
The Wolves were able to select their opponents through the controversial Club Call system that coach Tony Smith freely admits carries the risk of firing up the opposition.
Brough is hoping that Huddersfield can follow in the footsteps of reigning Super League champions Leeds, who have gone on to win the competition after being the chosen opponents of both Warrington and Wigan in the past two years.
"We've struggled in the past (against Warrington), there's no hiding from that, but we've really knuckled down of late," he added.
"We didn't play our best rugby up to the Wigan game and we got a bit of a touch-up off them but we seem to be coming together.
"We're training well and there's a buzz about the camp. I just don't want to go there and not try, I just want us to throw everything at them because there's no second chance.
"They've started off well three times and we've failed to match them. We don't need to play too conservatively, one out drives, we need to throw the ball around and have a go."