Super League: Tony Smith critical of Warrington despite win over Huddersfield
Warrington coach Tony Smith was not completely satisfied with his side's 30-22 win over Huddersfield.
Last Updated: 27/09/13 6:32am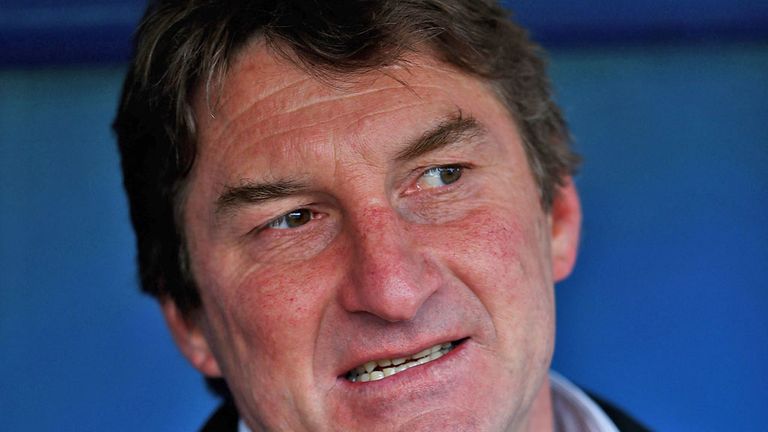 The Wolves overcame a shaky start to reach the season finale for the second straight season with their ninth consecutive win over the Giants.
Former Leeds boss Smith will be involved in his fifth Grand Final at Old Trafford next Saturday, equalling the record of former Bradford coach Brian Noble.
Joel Monaghan and Simon Grix both scored a brace of tries for Warrington in the final home appearances for veterans Adrian Morley and Garreth Carvell, but Smith was not completely satisfied with the overall performance.
"It was a tough old game, that's what we expect at this time of year," Smith
said. "We were a bit off in some areas.
"I didn't think we were composed, we didn't quite control the game like have in recent weeks but part of that was down to Huddersfield.
Dangerous
"They are a dangerous team and they threw a bit at us. I thought the effort was there but our kicking game was poor in the first half. I thought we were a bit edgy as if we were trying too hard to get the game put to bed too early.
"We managed to get through and we'll take our lessons from it into next week."
Veteran stand-off Lee Briers tormented Huddersfield with his astute kicking, but Smith revealed he had to give him a stern lecture at half-time.
"He copped a bit of a shellacking," Smith said. "He's controlled games better than that and he put his hand up.
"He knows next week he'll be far better. He came up with some big plays, Lee can do that even when he's a bit off."
Smith also confirmed that veteran full-back Brett Hodgson, who is being released from the final year of his contract, was fit to play but was left out due to Stefan Ratchford's excellent form.
Ratchford kicked five goals from as many attempts, and Smith added: "It was a tough call on a champion player.
"There are not too many times in Brett's career that he's had that decision with the coach to say he's not in the team but he handled it exceptionally well."
Huddersfield boss Paul Anderson, who was forced to start 18-year-old Jake Connor when Scott Grix suffered a groin injury, had no complaints over the result.
Opportunities
"The best team won tonight," admitted Anderson. "We didn't get ourselves into enough opportunities near their tryline.
"We gave them too many metres and they beat us around the ruck, which is something we'll have to look at."
Anderson revealed that Connor, whose only blemish was a knock-on near his own line towards the end, was in tears after the match.
"He's a good player, I've said that all along," Anderson said. "We've a lot of confidence in him.
"At times you could see his inexperience. He was upset because he feels he's let the team down but I've told him he's more of these days to come."
Huddersfield's cause was not helped when second rower Brett Ferres went off with a neck injury just before half-time and was unable to return.
"It wasn't ideal," Anderson added. "He got his head in the wrong place and suffered the consequences. He had a jar to his neck and had pins and needles."