No regrets for Huddersfield Giants ace Joe Wardle as surgery dents World Cup dream
Joe Wardle has no regrets about sacrificing a World Cup campaign with Scotland to undergo surgery.
Last Updated: 31/10/13 3:07pm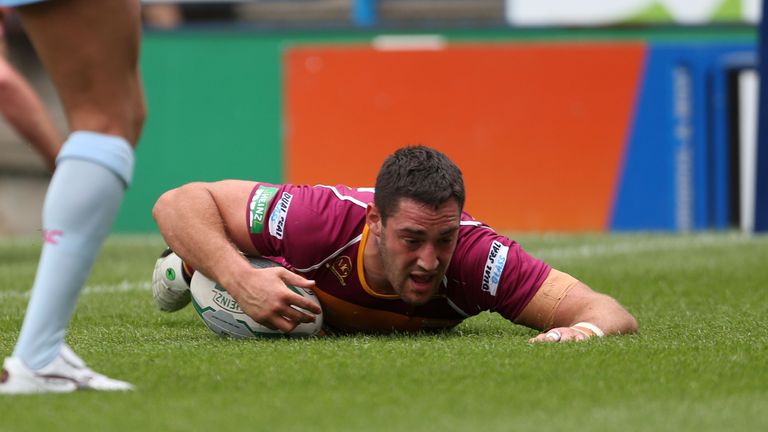 Wardle had to watch on as the Bravehearts edged Tonga 26-24 on a thrilling opening night at Workington's Derwent Park.
The Giants centre would have been a sure starter for the Scots but instead opted to undergo shoulder and knee surgery he felt he could delay no longer.
"Everyone wants to play in a World Cup, and if I'd been 100 per cent fit I'd have jumped at the chance," Wardle told the Huddersfield Daily Examiner. "But the simple fact is that I needed the surgery.
"I could have delayed having the operations and played for Scotland, but that would have meant I'd have missed the start of the season with the Giants. That's the last thing I wanted.
"After the season we've just had and helping us lift the League Leaders' Shield, I just want to play is as many games as possible for us next year. In that sense taking this decision was a 'no brainer'.
Prolong career
"I'm still young and know it's vital to look after my body. To take the right stops now could prolong my career, and also give me the chance to play in a World Cup further down the line.
"It's been a fantastic start to the World Cup and I was absolutely delighted for the Scottish boys the other night. But I still know I've made the right decision."
Wardle, who is undegoing an intense rehabilitation programme, should be back in full training by Christmas and expects to be in peak condition by the time the new Super League season starts in February.
"The operations went well and I'm feeling stronger every day," he added. For a couple of weeks after the surgery, I took a complete break from the game and spent some very valuable time with the family. It gave me time to chill.
"That's helped freshen me up, both physically and mentally. I've already set myself some pre-season goals, and if I make those then we could see a different Joe Wardle next year. I'll be bigger, better, stronger and faster. I'm pretty excited about that."