Super League: Anderson unhappy despite Huddersfield's victory over Wakefield
Huddersfield coach Paul Anderson was disappointed with his side's performance despite a 36-36 victory over Wakefield.
Last Updated: 21/04/14 6:21pm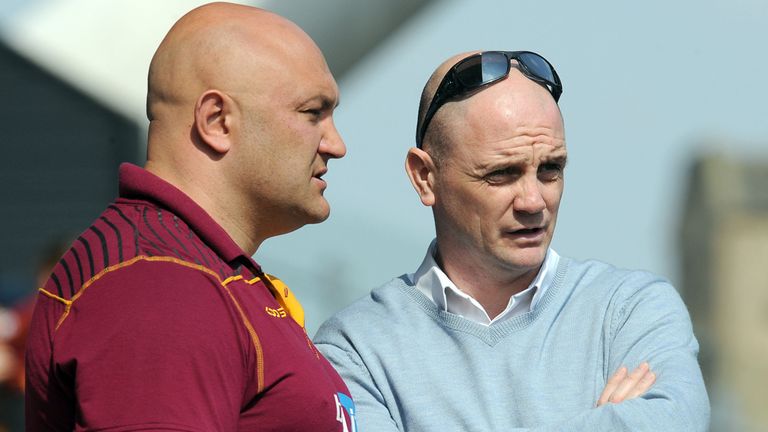 The Giants followed up their 42-22 Good Friday win at Salford to round off a successful Easter, but it was a sloppy performance in a game of low quality that once more demonstrated the pitfalls of playing two matches in four days.
"The positive (thing) is, it's over," Anderson said. "It was a boring game, wasn't it? We were wishing our lives away at one point.
"There was fatigue but that's no excuse for the errors. We just weren't good and, if we don't step up in quality for our next game, we will get burned.
"I don't want to sound disrespectful to Wakefield but we were within our rights to think we should have done better.
"We didn't and that was partly down to Wakefield but also ourselves. Our attention was disgraceful at times."
Positives
It was a sixth straight defeat for the Wildcats but coach Richard Agar saw enough to encourage his belief that they can avoid relegation.
"It was a typical second game at Easter," Agar said. "It probably lacked intensity but we can take plenty of positives.
"We worked hard and were enthusiastic and I thought we showed some real positivity with the ball in the first half. but little errors are hurting us big time.
"I understand why we're a bit disjointed but I'm hoping time on the training field before our next game will help us."
Agar is still trying to work out Jarrod Sammut's best position but admits he poses a serious attacking threat from deep.
"We've got to get on the back of him a bit more," Agar said. "Some of his breaks could have been supported better."