Finch relishing Wembley buzz
Brett Finch cannot wait to experience the Wembley atmosphere when he runs out for Wigan in the Challenge Cup final.
Last Updated: 25/08/11 12:31pm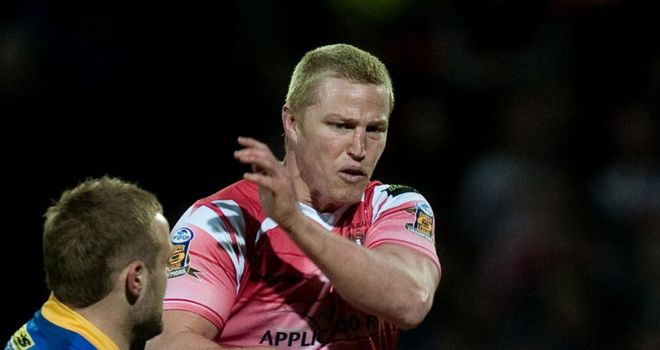 Brett Finch cannot wait to experience the atmosphere of Wembley when he runs out for Wigan's Challenge Cup final showdown with Leeds on Saturday.
The Australian half-back is thrilled to have the chance to achieve his ambition to play at the famous ground in just his first season in England.
And the former Melbourne Storm stand-off, who celebrated his 30th birthday last week, is only too aware of Wigan's proud history in the competition and what it means to their supporters.
"Growing up, there was no Super League and the Challenge Cup was the big thing," he said. "And I was certainly aware of Wigan's great history in it and the amazing run they had.
"Being over here, it's a lot more obvious what it means to the people of the town and how important it is to the club. There is plenty of excitement around the town and we've certainly embraced that.
"We've had a tough run with Warrington and St Helens and the atmosphere at those games has been fantastic. I can only imagine what it's going to be like at Wembley."
Brilliant
Wigan go into the clash on the back of an 11-match winning run and Finch remains confident he can add a Challenge Cup winner's medal to his Australian Grand Final ring.
But, although the Warriors are heavy favourites, he knows that Leeds will be no pushover on Saturday despite their shock 32-22 defeat by lowly Harlequins in their final match before the final.
"They've got a lot of big-name players who have played in plenty of finals and they've been on the big stage before," he added.
"Really what they've done up to this point doesn't matter. I am sure they will produce their best performance on Saturday and that's what we will be preparing for.
"We've worked hard to put ourselves in this position. We'll enjoy the week but, come Saturday, you've got to make sure you perform to your best because you can't come back the week after and do it all over again. You've got one shot at it and you've got to nail it.
"This team has been brilliant all year and we know, if we play to our potential, we know we're going to be pretty tough to beat."