Tomkins sets sights on Exiles
England's Sam Tomkins is looking forward to the challenge of facing the Exiles, even if they are without two of his Wigan team-mates.
Last Updated: 12/06/12 5:56pm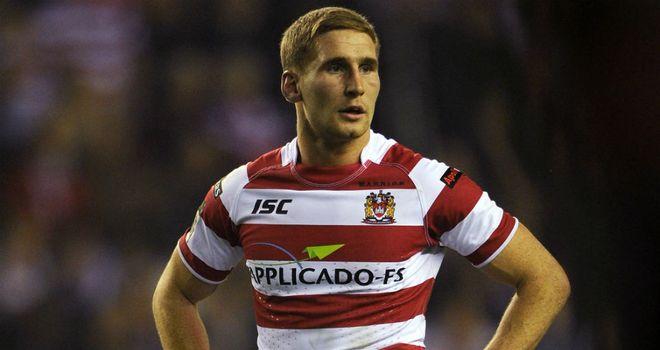 Sam Tomkins feels competition for places in the England team can only be a good thing - even if it is giving coach Steve McNamara a headache.
England's squad have all come together at their training base in Loughborough to prepare for Saturday's Origin series opener against the Exiles at Langtree Park in St Helens.
With no fresh injury concerns following the latest round of Stobart Super League matches, McNamara faces some tough calls over who to pick.
Tomkins, however, should have no need to be concerned about his own place and is looking forward to pitting himself against the best overseas players currently operating in Europe.
"Every opportunity we get to play for England excites us as a team," the Wigan full-back told Sky Sports. "It's going to be a tough battle on Saturday and one we're looking forward to.
"It's a competitive squad - there are a number of positions where there are two or three lads pushing for the same spot.
"It means you are just going to get your strongest possible team out on the field. I'm sure Steve has had a few headaches picking the team."
Injured Warriors
Sadly Tomkins won't get the chance to go head-to-head against two of his fellow Warriors - half-back Brett Finch and centre George Carmont have both been ruled out for the Exiles through injury.
"A couple of the Wigan lads picked up knocks, which is not great for them but for us it does weaken them a little bit," he admitted.
"But there are a lot of good players who can play for the Exiles and whoever they bring in to play I'm sure will be quality players."
The 23-year-old, however, insists he will not be taking it easy against any familiar faces, particularly as the Exiles defeated their hosts last season at Headingley.
"When we're on the field we are team England," Tomkins added. "These boys in the England side are my mates and the blokes in the Exiles team are just another 13 blokes we are playing against, regardless of whether I know them or not.
"I'm sure the Exiles are very passionate, and as England we certainly are. Whether it's Aussies, Kiwis or Samoans we are up against, we are passionate."