Challenge Cup: Shaun Wane pleased with Wigan win over Hull KR
Shaun Wane wants his Wigan side to make it a Wembley double for the town after his team beat Hull KR.
Last Updated: 12/05/13 6:31pm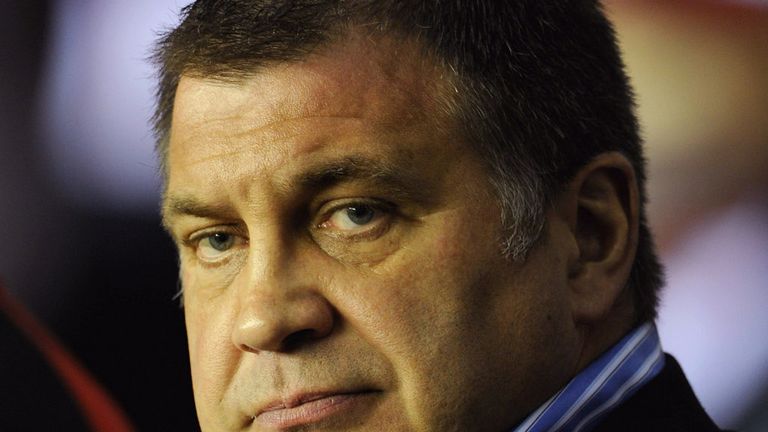 Twenty-four hours after Wigan's footballers lifted the FA Cup, the town's 13-a-side team moved to within 160 minutes of heading to the capital in August after emerging from MS3 Craven Park with a 46-14 victory.
Unlike Athletic, Wane's men are Wembley veterans and were permanent residents there between 1988 and 1995. Their form this season indicates they could well be back for an attempt at a 19th title.
With Sam Tomkins in the form he is - he scored four tries to make it 21 in nine games - that is more than a possibility and Wane is desperate for that to happen.
"It would be great for our little town in the north-west," he said. "We're another round down and will be going all out to get to Wembley ourselves. It's been a great weekend for Wigan."
It was not easy for the Warriors at first as Hull KR adopted a physical approach and belted their opponents at every opportunity.
Wigan were rattled - Blake Green had to go off after an incident which saw Cory Paterson put on report - and also behind to a David Hodgson try, but they eventually got themselves straight and after two Tomkins tries before the break, did not look back.
Shocking
Wane would not be fully drawn on Paterson's hit but was clearly unhappy.
"It was shocking," he said. "Blake is in a bad way. He was knocked unconscious and damaged his ankle on the way down. You can't give your opinion of what happened, you can't be honest. I give up and can't say what I want to say.
"It was obvious the plan was to disrupt us and that makes it a more satisfying win. We showed guts and determination and that's as good a win as we've had since I've been here."
For Rovers it is now a matter of switching focus back to the league, although that may be easier said than done.
The future of coach Craig Sandercock remains up in the air - chairman Neil Hudgell said in his programme notes that a decision on his contract will be made in the coming weeks - and dissent is growing on the terraces.
Consistently error-strewn performances from the likes of Omari Caro and Greg Eden are hamstringing hopes of success and the fans are making it known what they think, with a number calling for Sandercock to leave during the game.
He was unmoved afterwards, though, claiming to be unaware of Hudgell's words but saying. "I want to stay and love it here."
The Australian added he did not see Paterson's tackle on Green and felt his men had been undone by a failure to strike while the iron was hot early on.
"It was really disappointing as we bombed a couple of dead-set tries," he said.
'We deserved to be in the lead by more than four but you can't do that against really good sides like Wigan. We needed to take our opportunities and didn't. I was really disappointed with that."