Super League: Blake Green was the star of the show for Wigan in the Grand Final
Sam Tomkins and Pat Richard led the tributes to Wigan team-mate Blake Green after the Grand Final.
Last Updated: 06/10/13 5:17pm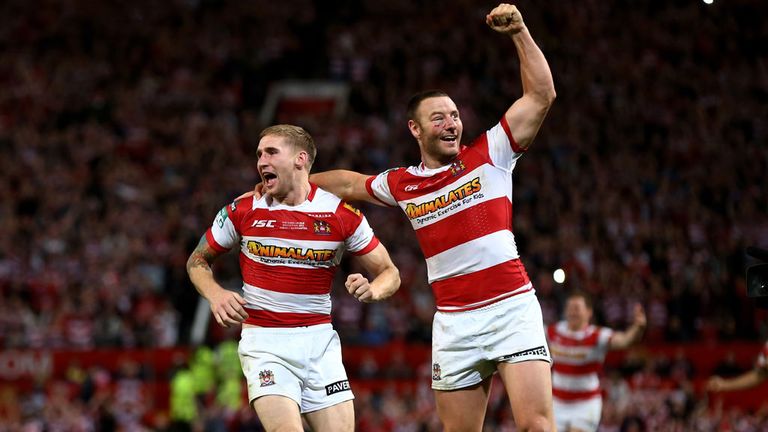 Tomkins and Richards are both leaving Wigan for the NRL and went out on a high when the Warriors came back from 16-2 down to win 30-16 at Old Trafford.
Aussie stand-off Green was given oxygen on the pitch after he was floored by a punch from Ben Westwood just two minutes into the match but recovered to play a key role in the fightback, scoring one of Wigan's five tries.
Richards said of his team-mate: "I saw his eyes rolling in the back of his head and I thought he was gone.
"I patted him on the back and said 'come on mate, we need you here'. I told him he needed to tough this out and he did, turning in a man-of-the-match performance. I think that, if he goes off there, we lose."
And Tomkins revealed that he was set to be moved from full-back if Green was unable to play on.
Character
"My first thoughts were I'd better learn how to play stand-off very quickly," he said.
"(Assistant coach) Paul Deacon came on and said we're making a few changes but then he (Green) got up and I was thinking 'I'd really like him to finish this game'.
"What character he showed, to have his eye busted after two minutes! You can teach players how to catch and pass and kick but you can't teach character. Without him, we wouldn't have won."
Green himself added: "I don't remember anything about it, so I can't really comment.
"I wasn't knocked out but, when I hit the ground, I felt a bit of impact on my eye and the doctor wanted me to stay down and make sure I could breathe properly. It was just precaution really. There was no way I was coming off.
"I was glad I stayed out there because it was cool to play an important part of the win for the team.
"I can't really put into words how I feel. It's what you dream about, playing in finals and winning the man of the match, and for it to all fall into place is just surreal."
Green is now hopeful that Wigan will be able to play the 2014 World Cup Challenge in his native Australia.
The annual match is usually hosted by a Super League club but an Australian venue has been recommended for next year and the Warriors are set to play the Roosters in Sydney next February.
"The whole season has been a dream," said Green. "I obviously had aspirations to play in big games but to win the two big ones and now to go to a World Club Challenge is unbelievable.
"I haven't played in Australia for a few years now, so I'm looking forward to it. I think it's going to be a great occasion."