Super League says farewell to its brightest star
Sam Tomkins signed off from Wigan as a Grand Final winner. Super League's loss is most definitely the NRL's gain as the full-back becomes the latest Englishman to head Down Under...
By Rob Lancaster
Last Updated: 16/10/13 8:27am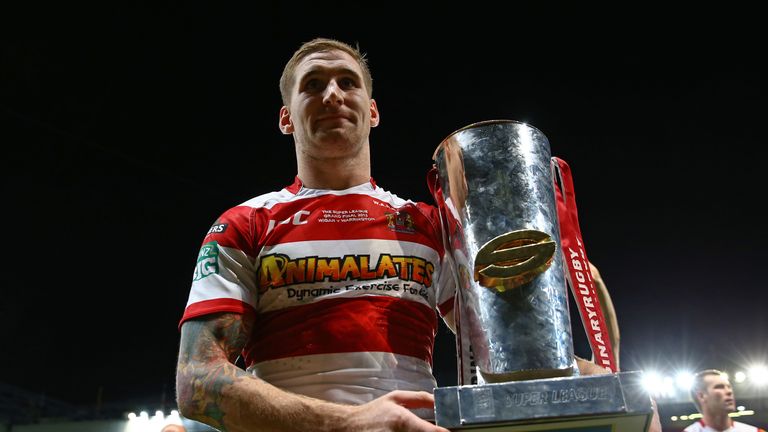 The full-back's final game in the famous Cherry and White, at least for now as Wigan have first refusal on his services in the future, saw him crowned a Super League champion for a second time, the Warriors producing a sensational second-half display to dismiss Warrington 30-16 at Old Trafford.
Although Tomkins wasn't quite able to sign off with a try, he was still part of a side that produced the greatest comeback in Grand Final history.
It was his tackle on Chris Bridge when chasing after his own grubber kick that proved to be the final play of the contest, and before the hooter had even sounded to officially end the game he was celebrating doing the double.
And with the final whistle closed a huge chapter of not only his career but also his life. Wigan was the club where he came through the ranks. Wigan was the club where he made a massive impact as a teenager, sporting blond highlights and looking like you'd find more meat on a butcher's apron. Wigan were the club that helped him go on and become one of the biggest names in the sport.
Wigan, though, is no longer his club (at least in terms of his employment).
New Zealand Warriors agreed to pay a world-record price to secure his services and Tomkins' next big challenge is to conquer the NRL. It is one long-time Wigan team-mate Pat Richards, himself heading Down Under to join Wests Tigers, believes the 24-year-old will relish.
"His style of play will go down well. He's a great player and great players play well anywhere. I think he's up for the challenge," said Richards, who - like Tomkins - is a former Man of Steel.
"He's a competitor. He just wants to compete hard and I'm sure he will do that."
As if the price, said to be around £700,000, wasn't enough pressure, Warriors owner Eric Watson heaped a little more on the England international's shoulder by ranking Tomkins as the most significant signing he'd made during his 13 years at the club.
"Sam is unquestionably among the biggest names in the game today, certainly the biggest in England," he said the day the much-known-about deal was finally confirmed, just ahead of Wigan's semi-final against Leeds Rhinos.
Man of Steel
Crowe, too, showed some interest, albeit in unusual circumstances. When asked a few questions by Tomkins - working for Sky Sports' Boots 'n' All show - at the Leicester Square launch of his new film, 'Man of Steel', earlier this year, the South Sydney owner couldn't help but suggest such a "brilliant player" should consider the Rabbitohs.
Others in Australia may yet need a little more convincing. Graham Lowe, a former coach of Wigan, stated his belief that the Warriors' recruit was no better than their current full-back, New Zealand international Kevin Locke.
All eyes will be on Tomkins right from the start, particularly as South Sydney's Sam Burgess and Canterbury's James Graham have been two recent exports from England that have made an impact in the NRL, the latter leaving a considerable mark on Billy Slater during the 2012 Grand Final.
The difference is, however, that those two were forwards. Tomkins can't wow the crowd early on with a couple of big hits, or a barnstorming run with ball in hand.
With the benefit of playing alongside the half-back pairing of the ridiculously skilful Shaun Johnson and former Warriors colleague Thomas Leuluai (who played a part in acquiring his signature) Tomkins will be expected to score and create tries for Matthew Elliott's team.
He will also be expected to deal with every high kick that is dropped onto his head and make metres on every return. Such is the price of costing so much, even in the mega-rich NRL these days.
Still, the statistics show he's capable of living up to such lofty expectations. In the last three seasons in Super League he's managed 77 tries and also laid on 72 for his colleagues. No player broke through more tackles in Super League in 2013, and that was despite his campaign being hampered by injuries.
World Cup
Before the Milton Keynes-born Tomkins can look forward to his new life in New Zealand there is the small matter of a World Cup to focus on.
The tournament offers a final chance for rugby league fans in the United Kingdom to see him perform on home turf for the foreseeable future - the 2014 Four Nations tournament is due to take place in Australia and New Zealand, and it seems unlikely the Warriors will release one of their prized assets for a mid-season international.
It is to be hoped there is no repeat of the booing that greeted him donning an England shirt against the Exiles in 2011 - Tomkins is a special player that should be savoured while we still can.
Sky Sports' Terry O'Connor made his opinion clear recently, stating: "Tomkins is the best player in the world; he can do things no other player can do with his speed, balance, and vision to break down the opposition."
Whether you fully agree or not with O'Connor's assessment is not really important, but there is no doubt that Super League's loss is very much the NRL's gain. Let's just hope it's a case of "play it again, Sam" when, maybe if, he decides to return from New Zealand.
Perhaps Barrie McDermott summed it up best when saying "I think it is a good move for Tomkins in terms of his profile and ability to earn money, but it is a sad reflection of where our game is at the minute."