Sandercock fuming at officials
Hull KR coach Craig Sandercock was furious with the decision to award the Catalan Dragons a 57th-minute try as his side lost in France.
Last Updated: 17/03/12 9:29pm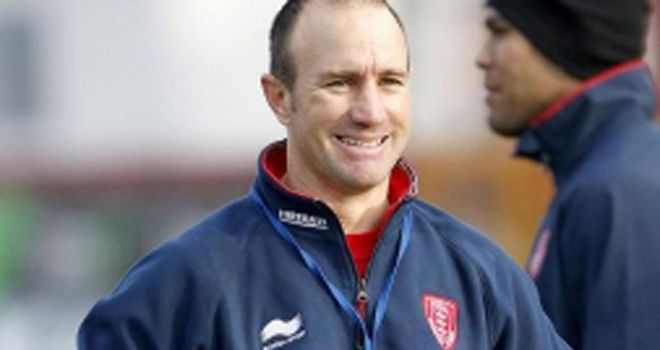 Hull KR coach Craig Sandercock was left furious with the decision to award the Catalan Dragons a 57th-minute try which proved crucial to the Dragons in a 20-12 victory at the Stade Gilbert Brutus.
Rovers led 12-6 at half-time thanks to converted tries from Michael Dobson and Kris Welham before the Dragons revival began with Damien Blanch's controversial second-half score, with Thomas Bosc going on to score a further try and Scott Dureau adding three goals.
Sandercock felt referee Ben Thaler had been wrong to award the try, claiming there had been a knock-on in the build-up.
"You don't always get what you deserve in this game, I've been crying out for video referees for pretty much eternity and I could see from the grandstand that it was a blatant knock-on and I can't believe it was missed," he said.
"It's devastating. I have a group of 17 men and staff that are absolutely devastated and it's not their fault. I reiterate, I cannot believe that we do not have video referees. I could see that from a feed I was getting in the stand.
"There are positives but the story goes that we lost the game and we can never get those two points back. I think we had some good resolve in defence and showed up well against the odds and in adversity."
Robinson pleased
Catalan boss Trent Robinson was a pleased coach after the game and added: "I thought Hull KR really played their part in what was a game I really enjoyed from the stands.
"They took it to us today and they got the jump early and we responded for a bit, then they hit back and it got pretty tough out there for a while.
"It's not usually a scoreline you see in Perpignan but it gave us a bit of a lesson, we had to defend some of our errors and I thought we did a good job in that area but it was on the other hand, our attack let us down today."
On the Blanch try, Robinson added: "It was hard to see, it is on the opposite side of the field from me over in the corner, I'll have another look at what has happened, but in those situations you have to trust the referee to make a call in those situations."