Salford starlet Theo Fages 'stopped breathing' after high tackle by Julien Bousquet
Salford scrum-half Theo Fages stopped breathing after a tackle during Saturday's defeat against Catalan Dragons.
Last Updated: 11/02/13 5:03pm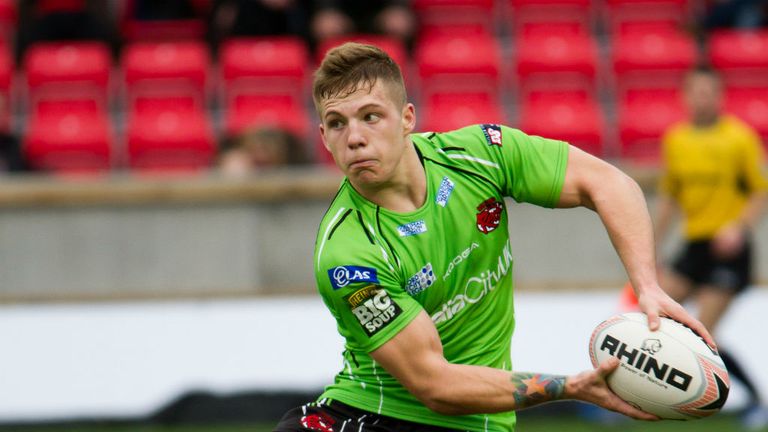 The 18-year-old was carried off on a stretcher in the third minute following a dangerously late and high challenge by prop Julien Bousquet, who was sent off as a result of the hit.
Despite being reduced to 12 men, Catalan brushed aside the challenge of Salford to win 40-6.
Salford assistant coach Sean Long, who played primarily as a scrum-half during his career, called for more protection for players after what Salford boss Phil Veivers branded a 'cheap shot'.
"He (Fages) passed the ball to the back rower and then got hit with an elbow flush in the face which knocked him out cold," Long said.
"For eight minutes he was out, He'd stopped breathing and had a fit because of his windpipes.
Reckless
"It was just a reckless tackle off the ball. Rugby league is hard enough as it is, never mind when it's off the ball.
"The guy is only 18 and he could be scarred for life. We've got to protect these half-backs.
"If it's a 50/50 give him a nudge or a clout, but not off the ball. We tell our half-back to go to the line so he's ready for it, but once he's passed the ball he's relaxed."
Fages has stayed in his native France for treatment following the incident and could be ruled out for two weeks with concussion.
As well as the injury to Fages, Long remains furious that the reckless challenge ruined Salford's chances of putting up a fight in the south of France.
He said: "Some might say we should have gone on to win the game but it messed up our game plan because we'd done a lot of work with Theo during the week.
"We had a hooker playing at scrum-half, a prop playing at back-row and a prop playing at stand-off."