Catalan Dragons defend prop Julian Bousquet
Catalan Dragons have defended prop Julian Bousquet following stinging criticism over the tackle on Theo Fages.
Last Updated: 15/02/13 5:00pm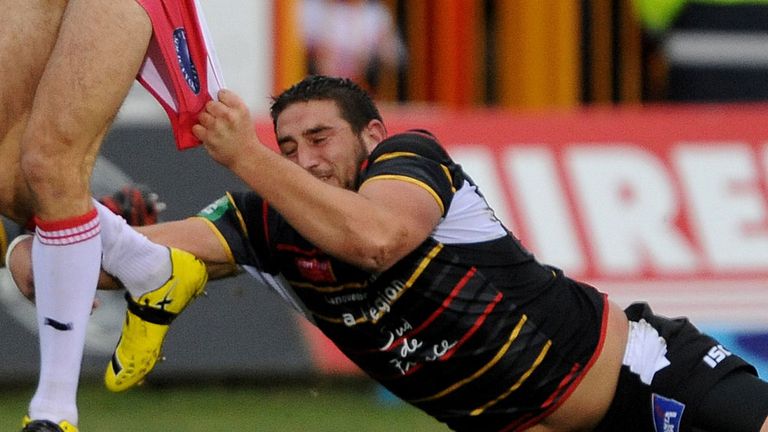 The 21-year-old was sent off just three minutes into last Saturday's win over Salford in Perpignan for a shoulder charge that knocked out City Reds' teenage scrum-half Theo Fages.
Bousquet, who was making only his fourth Super League appearance, was subsequently suspended after pleading guilty to making a grade D dangerous tackle, although his club have lodged an appeal.
Catalan chief executive Christophe Jouffret said: "Comments from Super League players as well as past players and staff of the Salford club are discrediting the sportive (sic) spirit which should support the legal procedure and that is inappropriate.
"Our role as a club is to defend our player, who, like Theo, is young and inexperienced at this level but his attitude with our reserve grade as well as with his junior club Lezignan has always been exemplary.
"Julian has been sanctioned over this incident resulting in a red card as well as a four-game ban.
"This penalty is very heavy for the young French front row when compared to recent similar incidents which did not incur a similar sanction.
"We have informed the Super League of our intention to appeal as we are sure that Julian's contact was not intentional and that the contact of his shoulder on Theo's head was not deliberate.
"We wish Theo a quick recovery and want it mentioned that it was the two qualified Catalans' doctors who were responsible for managing the incident as Salford could not provide a qualified doctor.
"Our relationship with the Salford club has always been good and we have always helped them when we can, as last weekend when they needed some materials help during their first away match.
"I have full confidence in the RFL's appeal process and I am sure the outcome will be consistent with previous findings."