Super League: Scott Dureau thrilled with Dragons comeback
Scott Dureau was full of emotion after he scored 18 points on his comeback in the 46-18 win over London.
Last Updated: 26/05/13 9:17am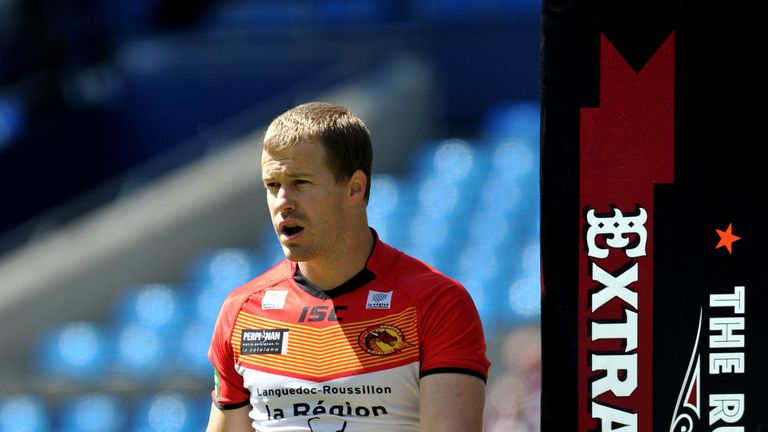 The Australian ran the Broncos ragged in a man-of-the-match performance, his first Super League game in nine months.
In September last year he complained of blurred vision, and scans confirmed he had a tumour on his brain.
He underwent surgery and months of treatment, but after eight weeks of training he was cleared to make his comeback on Magic Weekend at the Etihad.
"I didn't really know what my future held at first, if I would survive the next week let along play footy again," he said.
"It was a scary time but I'm here now, feeling good as it's been a pretty frustrating and scary five months. It's great to be back amongst the team.
"The tumour was on the left side of my brain. The problem with my eye was that the tumour was pushing behind my eye which caused me a little bit of blurred vision.
Frustrating
"When I came back (from surgery) I could only participate a little in training as it was difficult to see the ball and people coming, that was frustrating and nothing I could do to make it better."
Dureau will need check-ups for a decade to ensure the tumour does not return but he remains philosophical.
"At least for the next 10 years I will have scans, that's the way it is," he said.
"The doctors told me it won't kill me, they're confident they got it all and fingers crossed it won't come back. The whole situation has been a big eye-opener, I started thinking about life after rugby and wondering if I would play again."
His coach Laurent Frayssinous said: "It was a big day for him today and it is good for us all now that it is over. We are all happy that he is on his feet again. I spoke to him in the week and told him there was no expectation. I wanted him to enjoy it."
London coach Tony Rea was not impressed with his side: "There were a couple of things, definitely in the second half, where we didn't defend as well as we could have done," said coach Tony Rea.
"I am disappointed to say the least."