Craig Sandercock says Hull KR need to build on their impressive win over Widnes
Hull KR coach Craig Sandercock was delighted with his side's first-half showing during their victory over Widnes.
Last Updated: 17/02/13 8:32pm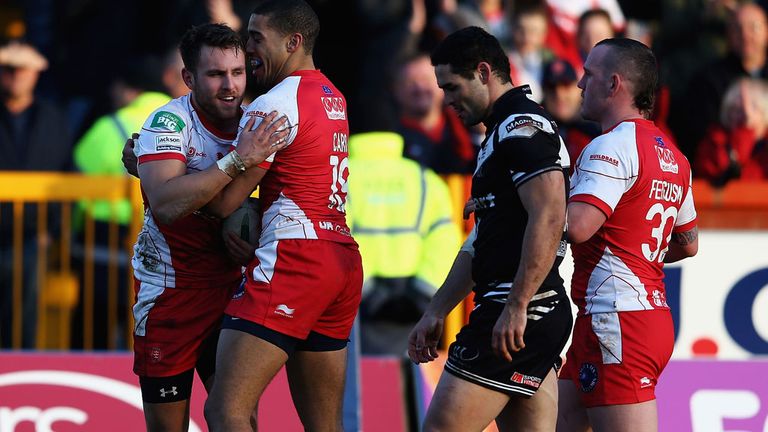 The Robins were very impressive prior to the break, running in six tries as they surged into a 34-0 lead, and they went on to comfortably secure their first victory of the Super League season at the third attempt.
Sandercock said: "I was very happy with the first 40 minutes. We controlled the game and scored some very nice tries.
"It all goes back to possession. When you defend set after set like we did in the first two games, it's awfully hard to defend.
"Today we had more of the ball and that gave us more energy. I thought we defended really well.
"This gives us two points and we are always confident in our ability.
"If you look at the first two games in great detail, we had chances to win both games. We now need to back this up next week against Salford."
Widnes coach Denis Betts was very disappointed with his team's first-half showing.
"Conceding 40 points is not good enough for this team anymore," said Betts.
"We started the season well and I thought we could come in to this game and win.
"It was an arm wrestle and we broke first. They scored 10 points quickly from us throwing the ball on the floor.
"We compounded errors by not sticking to the processes we spoke about in the week, like working hard and getting to our kicks.
"We reverted back to what we were doing at the start of last season and they got on a roll. The scoring system will do that to you and you're behind by 18 or 24 points in no time.
"We came out in the second half and played a lot better. Whether Hull KR eased off, I don't know. We won the second half 18-12 and looked a lot more like ourselves."