Hu KR coach Craig Sandercock hoping a touch of Challenge Cup nostalgia can help his team beat St Helens
Hull Kingston Rovers coach Craig Sandercock is hoping a touch of nostalgia can help his side get past St Helens
Last Updated: 20/04/13 2:25pm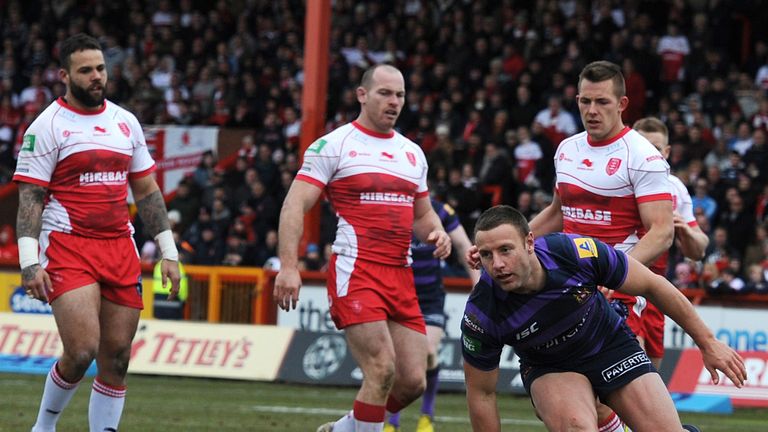 The Robins have a suite at Craven Park called the "10-5 bar" as a constant reminder of their only Challenge Cup success and the score by which they gained that memorable Wembley triumph over arch rivals Hull FC in 1980.
But Sandercock took time out from training this week to help the currently players relive that cherished victory and illustrate the overall magic of the cup to stress the importance he attaches to tomorrow's contest.
"We've spent a bit of time watching past Challenge Cups for the players, especially the overseas ones who aren't normally involved in this type of competition, to help them realise the history and how important this club treats the Challenge Cup," he said.
"That 1980 victory was a pretty magical time for the club and they've seen a bit of that as well as Martin Offiah's try against Leeds, those kind of things. It was more about appreciating the crowd and the occasion and what a special day it actually is. It's not just another game of football."
The trip down memory lane certainly whetted the appetite of Australian forward Cory Paterson, who cannot wait to experience the sudden-death competition for the first time.
"I'm very excited," he said. "I've never experienced a knockout competition so I'm going to soak it all up and embrace it for what it's worth. It was great to see the passion of the players and how much it meant and the celebration back here when they won.
"It has created a buzz and I'm buying into it. I'm definitely giving it the respect it deserves."
Saints go into the cup tie on the back of a dismal run of three defeats in their last four league games, including a recent 22-14 loss to Rovers at Craven Park, where they have not won since 2008.