Super League: Widnes' Brett Hodgson hopes to one day become a head coach
Last Updated: 11/04/14 11:25am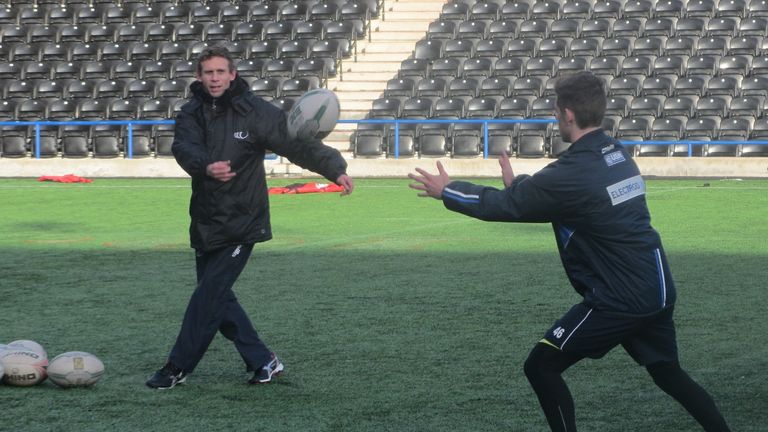 Widnes Vikings' Brett Hodgson would like to be a head coach one day after agreeing to join the club full-time from next season.
Hodgson, formerly of Warrington wolves and Huddersfield Giants, retired from playing at the end last season and linked up with the Vikings on a consultancy basis.
However, it was confirmed this week the Australian had agreed a two-year deal with the Super League club to be a permanent part of their playing staff from 2015.
Hodgson is already learning under coach Denis Betts and he believes that working with the ex-Great Britain and Wigan Warriors man will stand him in good stead for the future.
"One day I'd like to coach but the fact is there's a lot of experience needed and I've got someone who I can learn from in Denis, who is excellent at his job," he told Sky Sports News Radio.
"I've already picked up several things from Denis. He's got a lot of respect for the players at Widnes. If I can aspire to learn as much as I can from him then I'm sure that will help me."
Hodgson had initially struggled getting his foot in the coaching door and is thankful to Widnes for giving him an opportunity to pass on his vast experience to their playing squad.
"I've enjoyed the consultancy work I've done at Widnes. It's progressed to full-time as of next year. It's very exciting," he continued.
"The fact to have the deal done as early in the year as possible, it's really good and gives me something to look forward to no doubt.
Transition
"The transition from playing into trying to find a role was quite difficult to be honest. At times it took quite a little bit of work from me to try and put my name out and see if anything was available.
"It is tough. There was probably a good four months there where I probably didn't have anything. To get small opportunities and interviews was difficult.
"The transition from playing to something different is always difficult. Now that something is organised. It's really pleasing for me."
Widnes have been one of the form teams this season, with a defeat to Leeds the only blemish on a spotless copybook, and Hodgson says Danny Tickle and Kevin Brown have been the architects.
Boots 'N' All Extra
Click here to listen to this week's episode of Boots 'N' All Extra.
"There's a lot of belief at the club. There's no doubt about that. There's a lot of good young kids coming through," he concluded.
"I think Danny Tickle has been immense so far after being recruited from Hull FC last year, a very good professional. He's added some experience that the club needed.
"I think Kevin Brown is playing really well at the start of this season and whenever he is playing well some more experienced guys are playing well it goes for a good season."
Click below to listen to Brett Hodgson's exclusive interview with Sky Sports News Radio