Super League: Widnes Vikings' Hep Cahill signs two-year contract extension
Last Updated: 10/07/14 12:49pm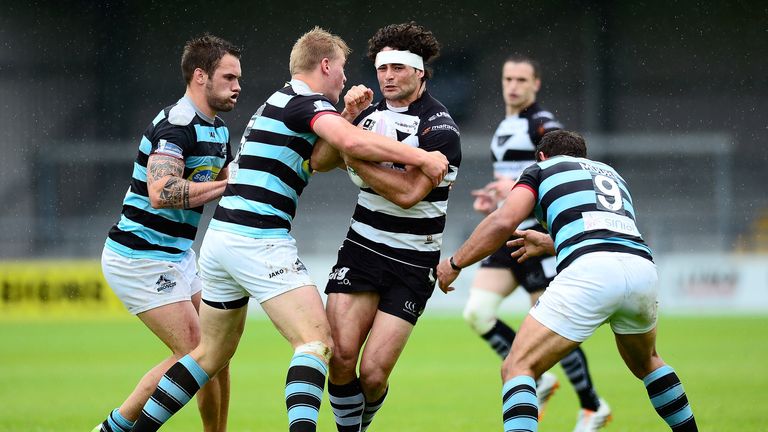 Widnes Vikings back rower Hep Cahill has committed his future to the Super League club by penning a two-year contract extension.
The 27-year-old former Crusaders and Melbourne Storm man is now tied to the Select Security Stadium side until the end of the 2016 campaign.
Injury has limited Cahill to less than a dozen appearances this year through niggling neck injuries, but he is now fully fit and eager to play his part.
"The contract is done and dusted and I can just focus on the rest of the season and I'm really excited about what's to come," he told the club's official website.
"I've had a few games now and I'm getting my match fitness back up. I'm only going to get better and hopefully I'll move forward with the team and I can't wait to rip in tonight and for the rest of the season.
"I've been here from the start of Super League and I'm part of something special which is being built here by Denis (Betts) at Widnes Vikings. I'm enjoying being here and playing for the club and I think we've got a bright future ahead of us.
Working hard
"The race for the top eight is hotting up now and we have a few teams right behind us, so it's a good time to be involved. The boys are working hard but we know where we want to be and that's playoff footy. We know what we have to do to get there and we will give it everything to get there."
I'm enjoying being here and playing for the club and I think we've got a bright future ahead of us.
Hep Cahill
The New Zealander has scored four tries in 53 Vikings' appearances and head coach Denis Betts says Cahill, his 12th signing of the season from this year's crop of Vikings, has a big role to play in their future.
"Hep has been huge since he's been at the club. His work rate and his ability have helped us move forward," said Betts. "He appreciates the fact the he's been getting better each year himself, too.
"He's been hampered by injury this season but when he has played, he's been exceptional. His workrate is such that it's hard not to have him in the side week in, week out.
"Hep's a big part of the culture of the club. That's why you want to have people like him around. The likes of him, Kevin Brown, Danny Tickle, Willie Isa and Pat Ah Van give the culture of the club so much substance.
"Hep comes in and works with young kids off his own bat. He'll spend time with our 16s and 15s. He's a great bloke to have in your system as well as being tough as teak and fearless in what he does on the field."