Falling Giants
Stevo hopes Huddersfield can get out of their rut but is not sure they will do it against St Helens.
Last Updated: 30/07/12 2:23pm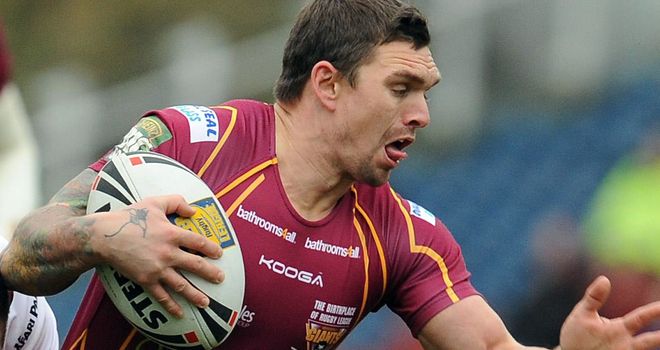 Huddersfield are in a real mess and I feel really sorry for the club. They have worked really hard to attract the fans back - now they have got it, they are falling in a heap!
It is just not going well over there but I do admire Paul Anderson who has made some tough decisions and I believe he has made the right calls. He has set out his stall from the very start and laid out who is going to be boss.
Nathan Brown made it quite clear that he allowed the players to essentially dictate what kind of style they were going to play. That did not do any good when they got walloped by Warrington in the Challenge Cup semi-final. He has parted company and it is up to Anderson to wrestle the power away from the players and back into the hands of the coach - where I believe it belongs.
He has his hands full because there is no confidence in this team at all! If Anderson has to start from the bottom again then so be it and it will be interesting to see how the club handle those players who don't seem interested in playing for the best of the Giants.
Huddersfield do have some world class players - Leroy Cudjoe, Eorl Crabtree, David Faalogo, Greg Eden, Luke Robinson and Danny Brough - the list goes on! I just despair sometimes that they cannot just get it all together.
It is going to be a pretty tough test going across the Pennines to take on St Helens. They may have had their ups and downs this season - especially in defence but they showed against Catalans that they can really get stuck in.
I though Lance Hohaia played exceptionally well against Catalans and really steered things around. The usual suspects always catch the eye too - James Roby, Jonny Lomax, Chris Flannery and Michael Shenton and I thought they really did well in their defensive patterns and I just cannot see Huddersfield breaking through. Francis Meli was another player who was outstanding and I am expecting another big game for him this week.
STAR MAN: Huddersfield will be looking for Danny Bough to lead them on Sunday. He has been there and done that and must show what he can do under pressure. It is going to be a big ask and if he performs then he may just help Anderson stop the rot.
STEVO SAYS: I fear for Huddersfield, I really do. I think they are lacking in so much confidence and this is the worst time to come up against a team like St Helens. It could get messy.