Widnes v Salford: Red Devils must play with pace to continue revival
Phil Clarke says Salford must follow their loss to St Helens with a huge statement against Widnes.
By Phil Clarke
Last Updated: 05/03/14 4:04pm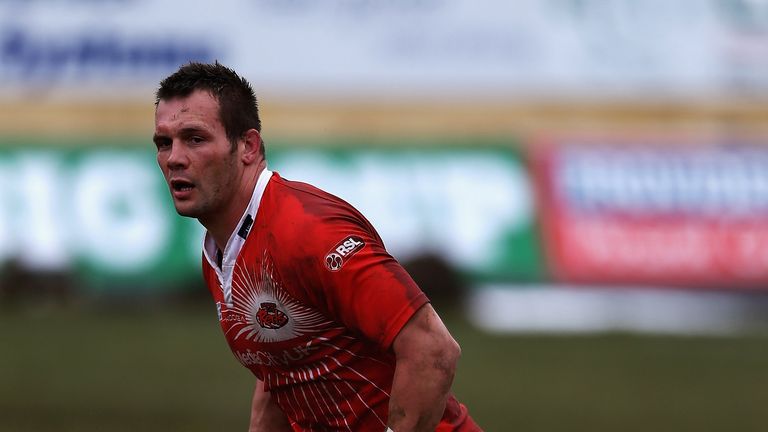 It's a song that's been sung by the Salford fans for years whenever their team get in front, but it's one that I thought they'd be singing all season in 2014.
As you know, I tipped them to win the Grand Final in October, but they've got a lot of work to do between now and then if that dream is to come true.
They came under the Sky Sports microscope last Thursday against St Helens and were totally outclassed.
Still, you could say that was because the mighty Saints have started the season in unstoppable fashion. It was only 12-0 at half time and one of those tries was almost unstoppable by even the best defenders in the game.
This week the scrutiny on them gets magnified fivefold. Perhaps they weren't expected to beat St Helens just yet. Well, I bet their owner expects them to beat the Vikings!
Responsibility
It's going to be difficult without four of the men that Brian Noble would have imagined being in the dressing room when his pre-season plans were put into place.
Francis Meli, Rangi Chase, Gareth Hock and Darrell Griffin probably account for about 30 per cent of their total player expenditure and it puts a massive amount of responsibility on the other 70 per cent. Are they up to it?
They face one of the four unbeaten teams in the First Utility Super League on a ground at which they were hammered in 2013 and the honeymoon is now over for the Devils.
They enjoyed three weeks of warm-weather training in South Africa and have had almost more media interest in the last two months than in the previous 20 years. They now need to justify their existence and salaries.
Although I outrageously tipped them to win the Grand Final, I knew that they were never going to win every game in 2014. It will be a series of steps that they have to take from the bottom to the top and the first big one is at Widnes on Thursday.
It can be easier for some teams to bounce back with a determined and strong performance when they've lost their last game. That's not to say that I didn't think that they tried hard last Thursday.
Lesson
Adrian Morley played with a pride and passion of a hometown boy wanting to impress his family and friends but it was almost too late by the time he joined the action.
There were times when St Helens played the game 10mph faster than Salford and that has to be the lesson that the Devils take forward this week. They will need to be very good to beat Widnes, though.
As an old friend of mine, I may be accused of being biased but several people within the game, some of them players who have played under several coaches, believe that Denis Betts is possibly the best coach in Super League.
As a Salford boy like Morley, he'll want to impress his family and friends this week by beating his home town team.
Salford won't need to win this match to get to Old Trafford, but they'll need to convince every Sky Sports viewer that they're quick enough to compete with the best.
It was an American rock band called Creedence Clearwater Revival who went to Number 1 here with that song. It's now time for the Salford fans to see their own revival and it needs to start this week in Widnes.
This week I attended a session at Parliament and gave evidence in a Committee Room on Concussion in Sport. It's a hot topic at present with new findings underlining how serious a concussion can be.
Next week I'll let you know more about this and what the RFL are doing to maintain the health and safety of players at all levels of the game.