Rugby League Expert & Columnist
'Evolution can't come at the expense of maintaining player safety'
Rugby league can't disregard player safety as it evolves into a more dynamic game, says Phil Clarke.
Last Updated: 19/03/14 4:03pm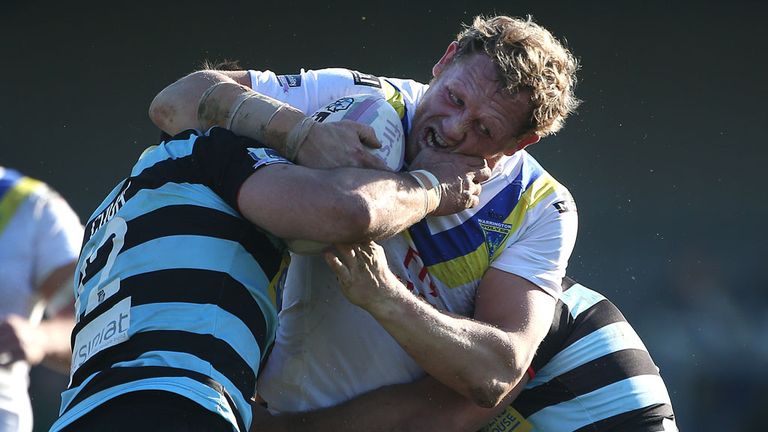 We all love the speed and aggressive levels that the rules of rugby league allow a game to be played at, but we need to maintain that this is done in a safe environment.
It was very interesting to read some of the comments left on this website by Andy Bibby and Steve Marshall, who suggested that we consider the introduction of another reserve player to add to the four on the subs bench, as a possible replacement should a team lose a player due to concussion, or in his example, any injury.
I'm not sure that I would extend it to any injury but it's fascinating that Andy's suggestion is being debated by the Players Association in Australia and the medics of teams in the NRL.
I believe that the doctors who work at the NRL clubs are also pushing for the introduction of an 18th man. Over to you Rob at Back Chat; throw that at Stevo and see what he says!
Although I'm not old enough to remember it, the initial reason why teams had substitutes on the bench was to replace an injured player.
They were first introduced 50 years ago but by the time we got to 1969, a coach could freely decide if he removed a player without the need for him to be injured.
By the time we got to a Test Match in 1990, both teams were allowed to have four substitutes, although this only came into Super League in 1996.
The speed of the game has now resulted in all 17 players playing an active part in most games that we see on TV.
Evolution
This provides a nice segue to an article that I read in the Wigan match programme last Friday. They had a 'Memory Lane' page which was looking back over the 1982/83 season, just over 30 years ago.
It was a time when Steve Davis was the World Champion at snooker, John McEnroe the champion of Wimbledon and wearing a seat belt was made compulsory for passengers in the front of cars in the UK.
Back then Wigan played a total of 42 games and finished third in the league. However it was the action from the John Player Cup Final that caught my eye. Wigan beat Leeds by 15 points to four at the end of the match, but it was the first half scoring that shocked me.
The first time the scoreboard operator at Elland Road had to move was to put a 'one' next to the Wigan name. Yes, Wigan began the game with a drop goal by Colin Whitfield. By half-time Leeds had converted two penalties to one from Wigan and the 4-3 scoreboard looked more like a football result.
At the time of reading this I'd just seen 40 minutes of action in which a total of 34 points had been scored. Hull KR led 20-14 and the individual brilliance and skill in several of the tries was breath-taking.
Back in the 1983 Cup Final they did at least get to see a couple of tries in the second half (Henderson Gill and Brian Juliff for those of you who want a quiz question) but it is fair to say that the speed and excitement of the average game today is higher than it was back then. (In most games I admit, perhaps not so for the weakest teams in the league now. A slower game did allow a weaker team to stay in the contest for longer).
The evolution of rugby league has always been based around the principle that we have to advance it as a sporting spectacle. In general, I think that most people would agree that this has been achieved over the last 100 years.
Every time we do that we must also keep one eye on maintaining the safety of the sport for those people who choose to play it.
Classy Cas
P.S. Congratulations to the Castleford Tigers. It's a testament to their hard work over the off-season that they now sit joint top of the table after five rounds. We mustn't forget this is a club that finished 12th last September.
It's sometimes easy, and lazy, to think that the coach of the team who wins the trophies is the best coach. It's not that simple. Daryl Powell is clearly an honest, straight forward man who is well-respected. His experience and knowledge of rugby league is second to none and I've always liked him since we first met on a Great Britain tour almost 25 years ago.
Good luck for the rest of the year. Even if the Tigers don't end up at the top by the time that we get to September, they deserve some credit for what they've achieved and how they've entertained us so far.