Leeds Rhinos star Rob Burrow backs Sam Burgess to be a rugby union success
Rob Burrow says Sam Burgess will be a great success in rugby union whatever position he ends up lining up in.
Last Updated: 20/02/14 12:34pm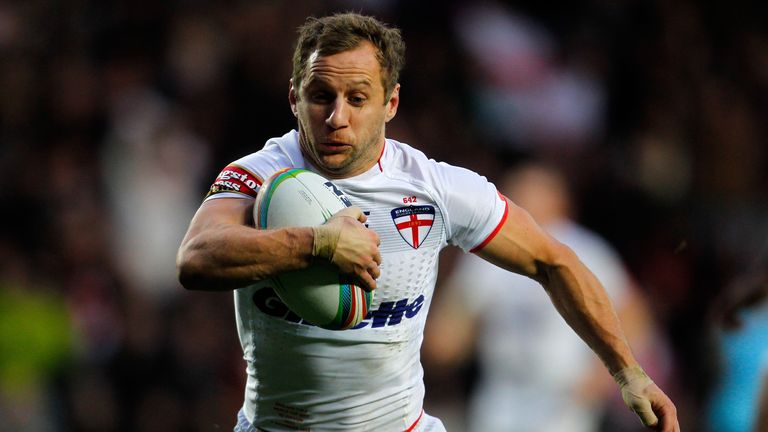 25-year-old Burgess will join Aviva Premiership side Bath in October after playing out his final season in the NRL with South Sydney Rabbitohs.
Burgess is aiming to make the England team for the 2015 Rugby World Cup, although the time frame for that is very tight indeed.
There have already been discussions about what position will suit Burgess best, and how long it will take him to adapt to the 15-man game, but Burrow believes he will be a huge success.
Leeds Rhinos star Burrow confesses that he is not an expert in rugby union by any stretch, but knows Burgess well enough to think he will be an immediate success.
"I'm not too familiar with positions in rugby union if I'm honest but all I can speak about is how good an athlete Sam is," Burrow said on Sky Sports News Radio.
Proud Yorkshireman
"I think he proved in the World Cup and in that semi-final what a fantastic talent he is and how proud we should be that he's British - and a Yorkshire lad as well!
"I just think he'll be great wherever he plays, whether he's tackling, he's taking the ball in - and he's got a good passing game as well. So there's a reason why another code want him. I think he'll do fantastically well and I think he'll pick it up easily.
"A whilst it's a massive, massive loss to rugby league without doubt you can't blame him for jumping at the opportunity really."
Although there's a growing list of league stars option to join the 15-man ranks of union, Burrow is definitely not one of those wanting to switch codes.
"No, I've not been tempted," Burrow added. "To be fair, I've always had my contract quite long-term at my club, and I've always had them renewed before they were up so I've never really had that opportunity.
"But If I'm honest I'm pretty unfamiliar with the rules so it would take me four or five years just to get used to the rules before I could ever do anything!"
Click Here to listen to the latest from Sky Sports News Radio