Gentle - Hull are contenders
Hull FC coach Peter Gentle insists his side are capable of going all the way to this year's Stobart Super League Grand Final.
Last Updated: 08/09/12 9:28pm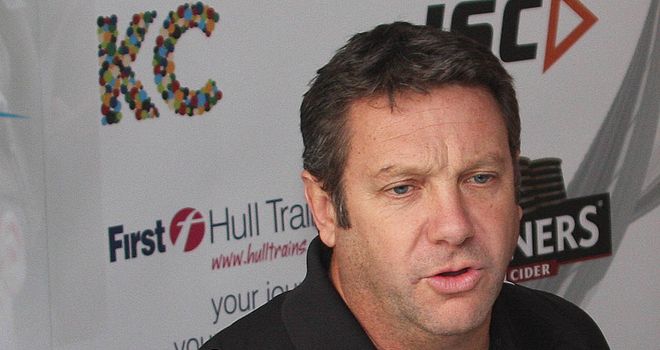 Hull FC coach Peter Gentle insists his side are capable of going all the way to this year's Stobart Super League Grand Final.
Gentle was speaking after seeing his side end their regular season with a comfortable 36-10 victory against Castleford Tigers at the KC Stadium.
The Black and Whites head into next week's play-off against Huddersfield Giants in good form, having scored 106 points in their last two games and Gentle believes his side can be genuine Grand Final contenders.
"I think there will be one or two dark horses in the play-offs and I don't see any reason why we can't be one of those sides," said Gentle.
"A whole new competition starts now, it is anybody's, there are four games left and I can't see any reasons why we can't play in all four of them to the Grand Final. I've seen enough from our blokes to suggest we can be one of those dark horses.
"It was hard in this game to find some rhythm with all the penalties and stoppages and I was frustrated watching the game. There was enough there from us for me though. To only concede two tries was pleasing and I was happy with the defensive hit out that we had, we were after a team performance and we got one."
While Hull are heading to the play-offs, Castleford are heading for their holidays having seen a poor season end with another defeat.
The Tigers showed glimpses of what they are capable of, with Rangi Chase - a Hull target for 2013 - pulling the strings as they kept going until the end, getting late reward through an Oliver Holmes score.
Improve
But coach Ian Millward admits his side have to improve in all areas next year, both on and off the field.
"We have a lot of work to do in all aspects of the club. Myself and my staff are up for that and as a club we need to learn why we've got in this situation. In all aspects of the club we need improvement," he said.
"I thought our first half was really good and the scoreline at half-time flattered Hull. We were inches at times off getting more points.
"Second half we tried very hard but we gave up the ball a lot more and our completion rate dropped and we bombed a lot of tries. For the amount of work we had to do in the second-half, I thought we tried very hard.
"It was disruptive to us when Danny Orr got injured with bad ribs so early and then we lost Daryl Clark, two of our best attacking players and I'm sure if they'd lost two of their best it would have had consequences.
"I put Danny back on with four minutes to go because I didn't want him to finish his career on the bench."