Castleford Tigers suffer injury blow as winger Kirk Dixon tears calf muscle
Castleford Tigers will be without injured centre Kirk Dixon for the first six weeks of this season's Super League.
Last Updated: 29/01/13 3:25pm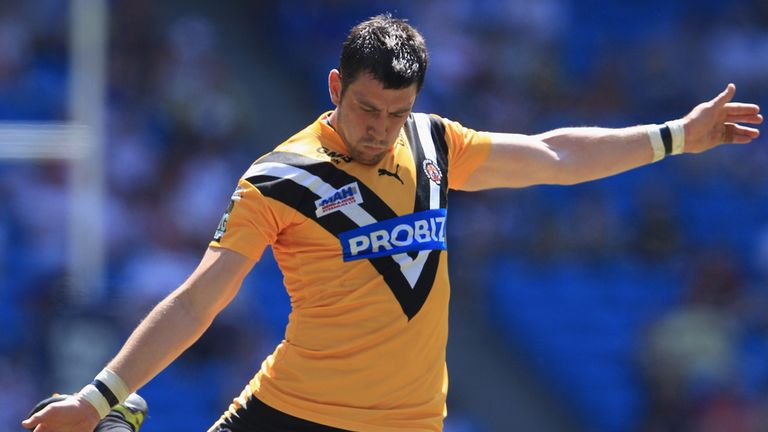 Tigers boss Ian Millward has confirmed the winger suffered a torn calf muscle in training ahead of this weekend's first round of fixtures.
The injury means another significant absence for Dixon, who missed the second half of last season after an operation on his neck.
The 28-year-old, who was Castleford's top scorer in 2011, has also had shoulder surgery in recent years while he missed a fair chunk of the 2009 campaign sidelined with a blood clot which threatened to end his career.
"These things seem to creep up every now and then and come at the wrong time," he said at Castleford's pre-season media day.
"I've gone seven months of rehab with my neck and played two friendlies so I was just getting some confidence and game time back.
"It's quite demoralising. You've done the full pre-season and you are raring to go. You want to be out with the boys, you don't want to be sat in the stand there watching.
"There is no bigger game than Warrington away so it's a hard one to take.
"But I've just got to deal with it. I'll crack on and get back as quickly as possible. There's a long way to go. I'll do the right things and try to get back quicker than they say."
Tigers coach Ian Millward admitted it was a serious blow for the club to be without Dixon until March, particularly as he is their first-choice kicker.
"Dixon was out for seven months after undergoing neck surgery as well as having six months out with a shoulder injury the year before, so I really feel for him," he said.
"He is our best goal kicker so there is no doubt it is a blow for us."