Weller Hauraki is eager to help Castleford Tigers beat the Leeds Rhinos
Castleford's new signing Weller Hauraki cannot wait to take on former team-mates the Leeds Rhinos on Sunday.
Last Updated: 05/02/13 12:30pm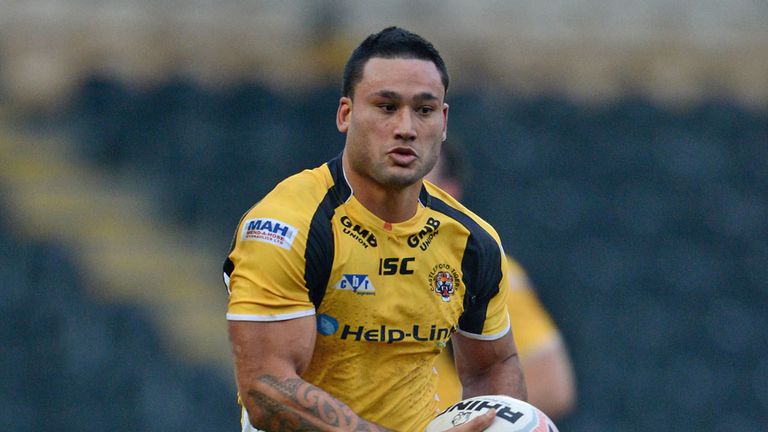 Hauraki made his Tigers Super League debut in last weekend's 40-24 loss to Warrington Wolves and the New Zealander now has a chance to face his ex-club.
The 27-year-old made 27 appearances for Leeds in 2011, however, he only mustered 12 last season and was allowed to leave Headingley early by head coach Brian McDermott in order to join the Tigers.
Hauraki is treating the visit of the champions to the Wish Communications Stadium like any other game and is focused on his job of helping Castleford secure the two points.
Special
"I have just got to go out there and do my job," Hauraki told the Yorkshire Evening Post. "It's going to be special. I am really looking forward to the challenge.
"I got on really well with the Leeds boys. I have nothing against the boys, but it is my job. I am at Cas now, that's the way things go. You will never lose that friendship, though.
"I really enjoyed my time at Leeds. The boys were really good while I was there and I have nothing but good to say about all of them and everyone else there.
"It is just that I have gone somewhere where I am going to play a bit more. They have got some good back-rowers at Leeds and they've brought in a few more. It was up to Brian Mac to choose his team, but I am happy where I am.
"I am really enjoying it. I was a bit late back to training because of visa issues, but I have been training for a couple of months and I am the fittest I have been for a while. Basil (Ian Millward) has given me a good opportunity here and I am going to take it."