Richard Agar believes the RFL will ratify Wakefield's win over Castleford
Wakefield coach Richard Agar expects his side to be handed the points after the game with Castleford was abandoned.
Last Updated: 30/03/13 10:09am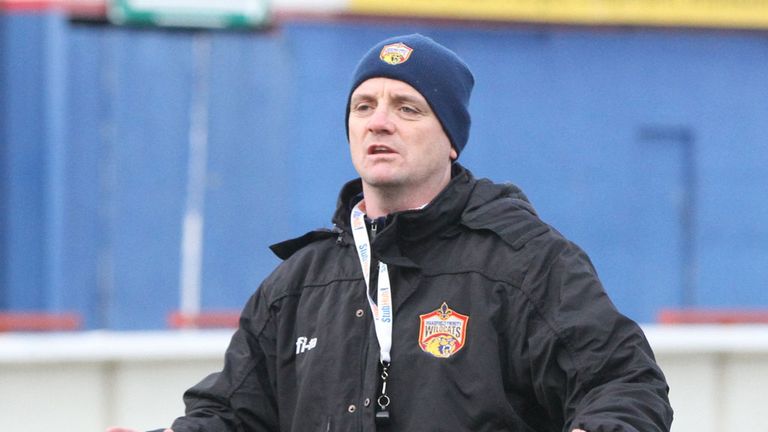 Wildcats led 37-16 at the time and Agar, along with opposite number Ian Millward, were involved in discussions that prompted the abandonment due to an electrical problem with a floodlight above one of the stands.
"I think the rule from the RFL is that the result can stand if it goes past 60 minutes but it's at their discretion," Agar said.
"Myself and Ian spoke on the sideline in consultation with the match officials and everybody's safety is paramount.
"We didn't know how long it was going to be before we could get the game going again so, with seven minutes to go, we felt the sensible thing was to let the result stand, especially with four scores in it at that point."
The result will need to be ratified by the RFL but Wakefield captain Danny Kirmond was presented on the pitch with the Adam Watene Trophy which is competed for annually between the derby rivals.
Millward said he was happy for the result to stand.
"I felt they won fairly and squarely," he said. "Any problems with regard to stadium safety comes first.
"I was very happy to stop the game. There was no way we were going to win the game from there and we haven't taken too much time off the spectators. We think it was handled very well."
The Rugby Football League's match commissioner Tony Randerson also confirmed that a bottle and a hot drink had been thrown from a section of Castleford fans at Wakefield's former Tigers full-back Richard Mathers after he had scored a 33rd-minute try.
"The stewards were summoned and the person involved was ejected from the ground," Randerson said.