Danny Orr not sure he is ready to take over reins at Castleford
Danny Orr feels he is not ready to take over as Castleford Tigers coach but is happy to take charge in the short-term.
Last Updated: 25/04/13 11:34am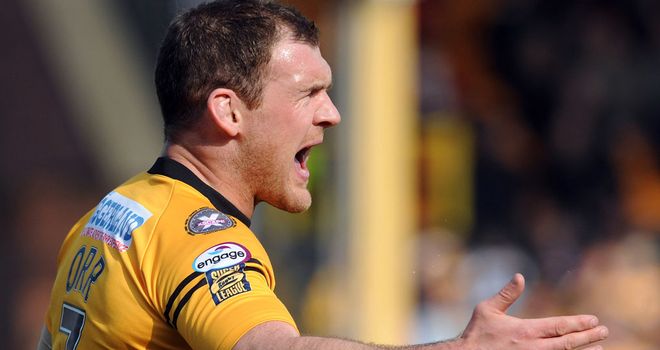 The 34-year-old only joined their backroom staff at the end of last season after hanging up his boots, but he was promoted to a caretaker coach role on Tuesday when Ian Millward was sacked.
Orr and player performance manager Richard Tunningley will prepare the team for Saturday's home game with Widnes, but he feels is three or four years away from being experienced enough for such a big role.
He said: "It's something that came about really quick. I was asked if I'd take on the role and I said 'of course I would', someone had to do it. I've got help from Richard Tunningley and we're doing the best we can.
"I've always said I'd like to be a head coach one day but every good coach I've spoken to over the years has said you need to learn the trade by doing an apprenticeship.
"I believe I was doing that under Basil (Millward) and Stuey Donlan and I was thoroughly enjoying it.
"I'd say it takes three or four years to become a head coach - in Australia a lot longer, perhaps you are looking at seven or eight years - but I'm hoping it's not going to be that long.
"It's something that has come about and I've got to deal with it the best way I can. This is probably a good experience for me.
"I have joked about if we win the next 10 games then things might change but I've told Steve (Gill, new chief executive) I'll do the best I can for as long as I'm needed, whether it's one week, three months or whatever. If I was asked to do it for the rest of the season, that's what I would do."