Castleford coach Daryl Powell would have dropped banned Jordan Tansey
Castleford coach Daryl Powell would have dropped banned Jordan Tansey for Sunday's Super League trip to Salford.
Last Updated: 20/03/14 3:36pm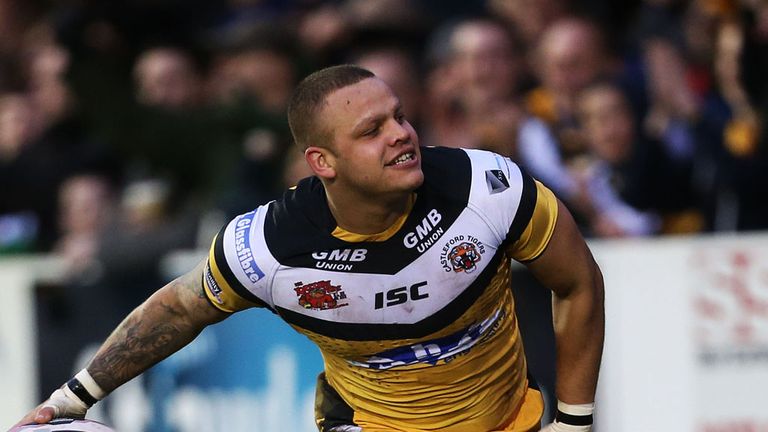 Tansey was banned by the Rugby Football League's disciplinary committee after he made deliberate contact with ref Roby while defending his line during the Tigers' 19-16 win over Hull last Sunday.
He had been recalled by Powell after Luke Dorn was left out of the side despite scoring two tries in Castleford's thrilling win over Wigan a week earlier.
"We've accepted the ban," Powell said. "I don't think he meant to push him as hard as he did - he was almost going back towards him.
"I can understand that you don't want people making contact with referees but I can understand Jordan's side of it too. It's unfortunate for him but there's a little bit of an example there, which is disappointing.
Wouldn't have played
"He wouldn't have played this week. I don't think he had his best game last week to be honest. He was a little bit off. So Luke Dorn would have come back into the side anyway."
Sunday's game is expected to feature 2012 Man of Steel Rangi Chase up against his old club after missing Salford's last four matches with a torn calf muscle.
If he gets the nod to return, Chase will be up against Marc Sneyd, who joined Castleford on a season-long loan as part of the transfer deal that took the England stand-off to the Red Devils and is clear to face his parent club.
"There are no clauses in there," Powell said. "I think it's important that there wasn't. They let him go out on loan, I don't see why they should fear him too much."
Listen here to the latest Boots 'N' All Extra. Rob Burrow reveals how close Ryan Hall came to leaving Leeds Rhinos, and there's an interview with the Championship coach plotting Wigan's downfall. Plus Jon Wells on whether the officials are being too lenient this season