Challenge Cup: Castleford Tigers won't fear Wigan Warriors, says Andy Lynch
By Jonathan Doidge
Last Updated: 05/06/14 11:28pm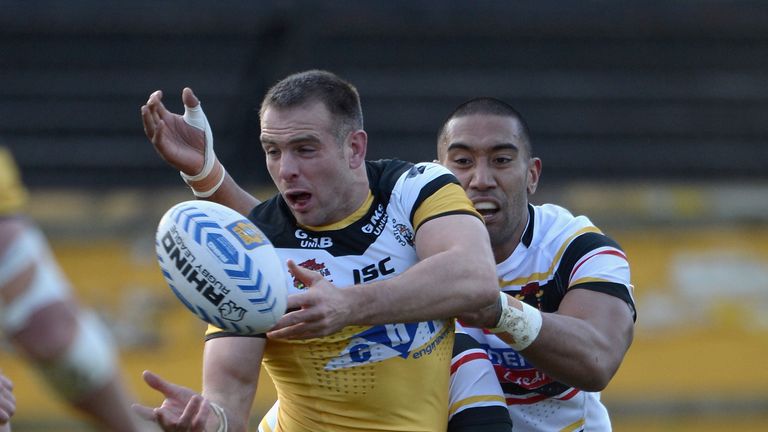 Andy Lynch says that Castleford will respect but not fear Wigan in their Challenge Cup quarter-final on Saturday.
The Tigers have never beaten the Warriors in the competition since the clubs adopted those respective names, their last success being at the same stage in 1986, when they went on to win it.
Since being drawn against each other Castleford have been accused of a lack of respect for Saturday's opponents, but former England prop Lynch says that has not come from the players at the Mend-A-Hose Jungle.
"We have definitely got a healthy respect for Wigan, just as we have all the teams that we play. We respect them and we know that they will be a real challenge on Saturday, but we do not fear them," Lynch told Sky Sports.
"You have to be confident in your own abilities as a professional sportsman and as a team. We are playing with confidence and we are making ourselves difficult to beat."
We have to talk, we have to work together. They have got some high quality individual players but we feel we are well prepared.
Andy Lynch
The Tigers snatched a dramatic late win when the teams met earlier in the Super League season, but Lynch says that has had no bearing on the team's preparation for this weekend's encounter.
"We have trained really well all week and we have done plenty of video work on them to see what each individual does. We have a good idea what they will throw at us. The challenge is in whether we can deal with that.
Quality
"We have to talk, we have to work together. They have got some high quality individual players but we feel we are well prepared.
"There is no better way to test yourselves than against the best in the league and they won the double last year so we are looking forward to the test."
Wiganer Lee Jewitt missed last week's defeat of Hull KR with a sore back, but he is fit to face his hometown club, while Lynch thinks that Cas hooker Daryl Clark has a key role to play on Saturday.
"Clarky is playing really well," said the former-Hull FC Challenge Cup finalist. "It's great for him. He is very talented and deserves the accolades for what he has done so far this season.
"He is coming up against an international in Micky McIlorum and if he can win that battle then that will be great for us. What better way to test himself than against a player like Micky.
"It's the same for Marc Sneyd up against Matty Smith. Both of them have been on fire this year and it's a real key battle in the contest. Both of them have strong kicking games and it could come down to who is able to be at their best."
In a 15-year career, Lynch has made just one appearance in a Wembley decider, which came in last year's defeat to Wigan when in the colours of the Airlie Birds and he is desperate for another crack at winning it.
He added: "It would be great to get back there. I lost there to Wigan for Hull last year. It would mean a lot to get a second bite. It's a great place to play and I would love to be on the winning side.
"That's for another day though. We have got to worry about our own job against the Warriors and get our own house in order.
"It's about teamwork. We've got a real close knit group who are willing to work for each other and we know we can pull it out when we need to.
"When things have gone against us this season we have come back strongly and we will need to be at our best come 2.30 on Saturday."