Mac happy with Cecchin
England coach Steve McNamara has no issues with the choice of an Australian referee for Saturday's Gillette Four Nations final.
Last Updated: 16/11/11 4:00pm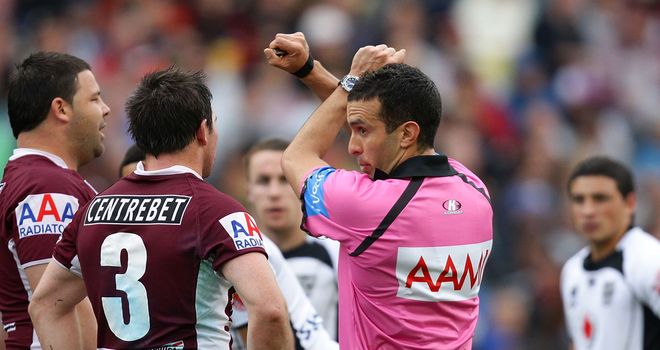 England coach Steve McNamara has no issues with the choice of an Australian referee for Saturday's Gillette Four Nations final.
Tournament organisers abandoned their policy of having neutral officials at the end of the group stages and the name of Matt Cecchin emerged from three-way talks between representatives of the major powers.
With the Rugby Football League's director of match officials Stuart Cummins opting for Super League referee Phil Bentham and Australia's Stuart Raper throwing his weight behind Cecchin, the outcome came down to the decision of New Zealander Marc Harris, who failed to back his fellow countryman Henry Perenara.
That puzzled McNamara, who told a news conference at the team's base in Loughborough that Bentham was the logical choice because he is the only referee accustomed to international rules.
"You'd have to ask New Zealand why they voted on the side of the Australian referee," he said.
"You'd think you'd vote for your own referee, particularly with him being the neutral one.
"I think all three referees had a case - Henry as a neutral and Matt as an established referee in the NRL but surely Phil Bentham is in a very strong position because he's the only one who's used to refereeing to the rules we have on Saturday."
Perenara's inexperience is thought to have counted against him while Australia coach Tim Sheens publicly criticised Bentham after the opening match of the tournament.
The 31-year-old Cecchin, who was one of two referees in charge of this year's NRL Grand Final, has already had two England games and McNamara was keen to stress he is happy with the appointment.
Happy
"We said we'd let the authorities decide," he said. "I think Matt Cecchin is a very good referee. We're fine with Matt refereeing this game and it keeps Tim happy so we're all happy.
"The players have a lot of respect for him. We had him in the French game and there were some difficulties but we've progressed as a team and I think Matt's progressed as well.
"It was his first game as one referee and he's had a couple of cracks at it since then.
"I think we need to look at the whole process to see if we can find a better solution for later down the track.
"If neutral referees are available and of the right standard, it's a benefit for everybody.
"I think any other sport would find it strange to have a final with a referee from one of the countries competing in it but that's an issue for later.
"This game is about 34 fantastic athletes who are going to be playing against each other at the weekend. We really should be talking about the quality of personnel who will be on show."