Lawrence wary of England
Australia centre Chris Lawrence thinks that England's improved three-quarter line will make them a real threat at Elland Road.
Last Updated: 16/11/11 6:03pm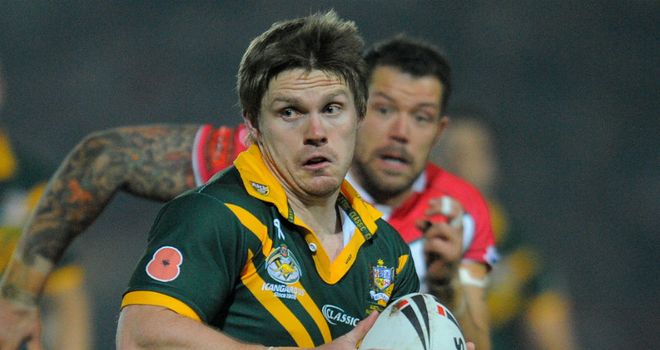 Australia centre Chris Lawrence thinks that England's improved three-quarter line will make them a real threat during the Gillette Four Nations final on Saturday.
Wasteful play by the three-quarter line has blighted England performances in recent years as they have consistently struggled to capitalise on the work of their forwards.
But the introduction of Jack Reed, along with to the emergence of wingers Ryan Hall and Tom Briscoe and the rejuvenation of Kirk Yeaman, seems to have given England a new-found cutting edge in attack, as well as a defensive toughness.
And Lawrence, an ever-present in the Four Nations, was left particularly impressed by Hall's two-try display at Wembley in the group stage, where Australia did not have things all their own way despite claiming a 36-20 victory.
"We're well aware of their ability. We've seen what they can do. They played really well against us the first time," the Wests Tigers player said.
"I hadn't seen a lot of their players but now I know what to expect. They shifted the ball well. Their forwards worked us over in the middle and they've got some good shape out wide.
"In the past England have gone forward but haven't been able to finish off their plays. Now they've got some good young halves and some outside backs, particularly Jack Reed, with some NRL experience.
Sharp
"They've got those finishers now, especially Ryan Hall, who was great against us, and they were really sharp against New Zealand."
While Lawrence may have needed to do his homework on the bulk of the England squad, he needed no introduction to back-rowers Gareth Ellis and Chris Heighington, who also play for the Tigers in the NRL.
Ellis is expected to return for the final after missing England's win over New Zealand with a back injury and Lawrence has welcomed the challenge of facing him.
He added: "I'm hoping he makes it. He's one of the best back rowers in the game and, as a player, you want to come up against the best because that's one of the challenges.
"I've seen what he's capable of and I know it will be a really big challenge for us."
Heighington has not made such a spectacular impact during his first run of England appearances but Lawrence believes much of the tough-tackling forward's best work goes unseen.
"Chris is someone you love to play with. When everyone is struggling or a bit out of breath, he's the one who puts his hand up to make that tough run and make that tough tackle," Lawrence said.
"He always seems to turn up in the right position at the right time."